Editor's note: In celebration of National Park Week, which runs from April 16-24, The Points Guy is publishing a series of articles focusing on the beauty and diversity of America's national parks. We will share personal stories from the TPG team, as well as news and tips that will help you get the most out of your next national park visit. The following story is part of this series. 
---
It's embarrassing to admit, but this native West Virginian was pushing 50 years old when she hit the iconic rapids of the state's New River for the very first time. I did my best to make up for lost time, though, exploring outdoor diversions beyond the river. Here's your guide to the many lures in and around the New River Gorge National Park and Preserve.
For more TPG news delivered each morning to your inbox, sign up for our daily newsletter.
Area history
Its name is a bit of a misnomer. Situated in the Appalachian Mountains of southern West Virginia, the New River is the world's second-oldest river. Its existence spans back to the time of the supercontinent Pangea some 299 million years ago. Fun fact: The river is also one of the few waterways in North America that runs north. Thanks to its unique orientation, it provides an ideal corridor for migratory animals, creating a rich display of endemic wildlife.
The 53-mile stretch of the New River between Bluestone and Hawk's Nest dams became part of the National Park System in 1978. It was upgraded to national park and preserve status in 2020, making it the U.S.'s 63rd national park. About 7,000 acres of the New River Gorge National Park and Preserve comprise the national park, while the other 65,000 make up the protected national preserve. The difference between a park and a preserve? You can hunt in a preserve, but not a national park.
Related: I grew up next to a national park – and I took it for granted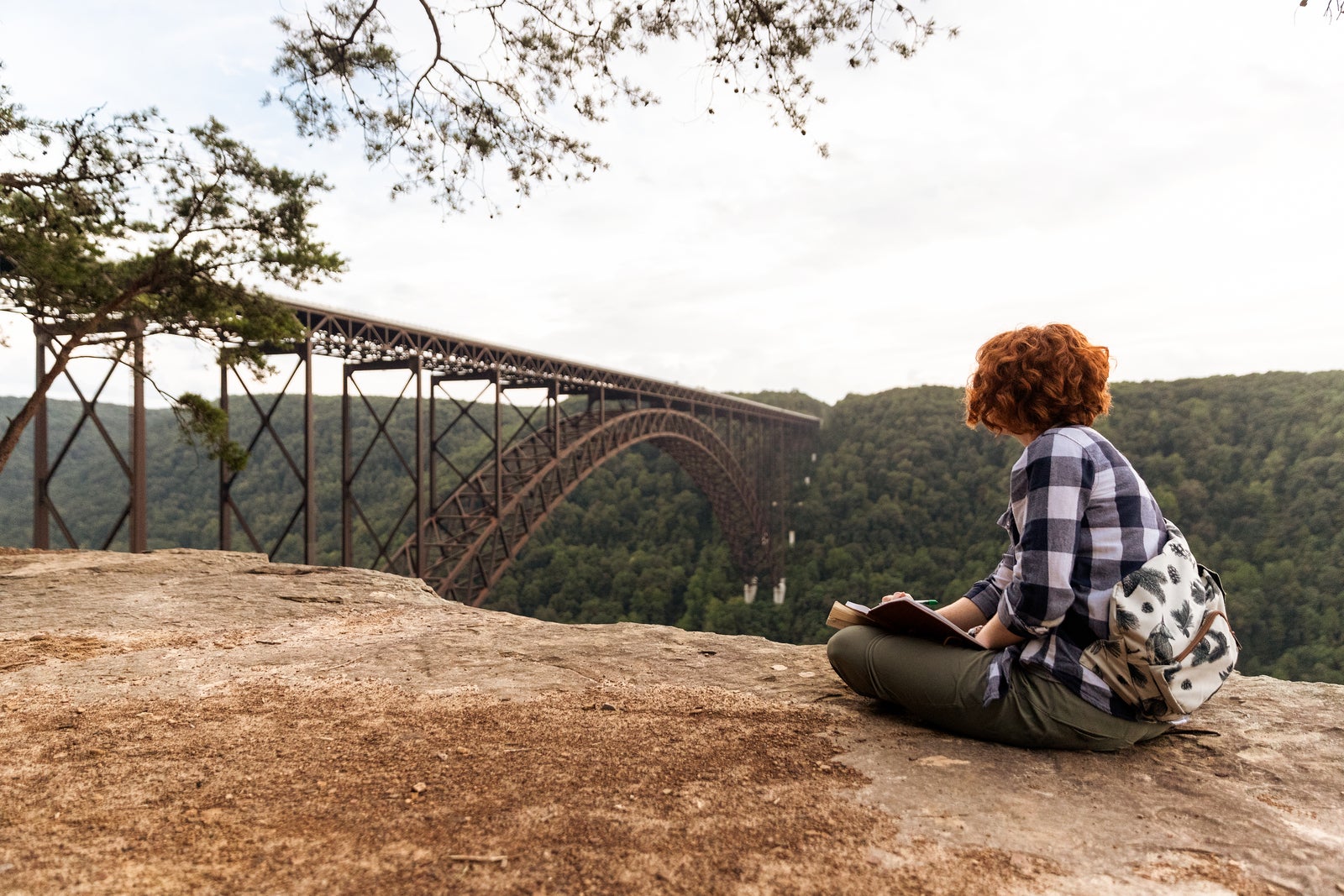 Getting there
It may be easier to access this outdoor wonderland than you think. The New River Gorge area is located less than a day's drive from over 50% of the U.S. population, according to Visit Southern West Virginia. It's easily accessible via Interstate 64, Interstate 77 and Interstate 79, and was a quick enough four-hour drive for me from Charlotte. You can also fly directly from select cities into one of three airports – Lewisburg's Greenbrier Valley Airport (LWB), Raleigh County Memorial Airport (BKW) in Beckley and Charleston's West Virginia International Yeager Airport (CRW).
Diversions
The National Park Service's Canyon Rim Visitor Center is a good place to begin your visit. It provides a ton of information about the New River Gorge area and its history through historical photos and displays about the people, towns and industry of the gorge. Take time to soak in an awe-inspiring 2-mile view southward into the park from the center's back deck.
Bridge Walk
A short trail from the visitor center leads you to the Bridge Walk adventure, an ideal activity for thrill-seekers. I've zip lined on many occasions and I've even been hang gliding, but the prospect of shuffling along the New River Gorge Bridge catwalk among 851-feet-high structural beams nauseated me just a little.
Constructed to replace the drive down twisty and narrow mountain roads, the New River Gorge Bridge opened in 1977. It's the country's third-highest bridge and the longest single-arch bridge in the Western Hemisphere. To compare, the Seattle Space Needle is 605 feet high and the Gateway Arch in St. Louis is 630 feet high.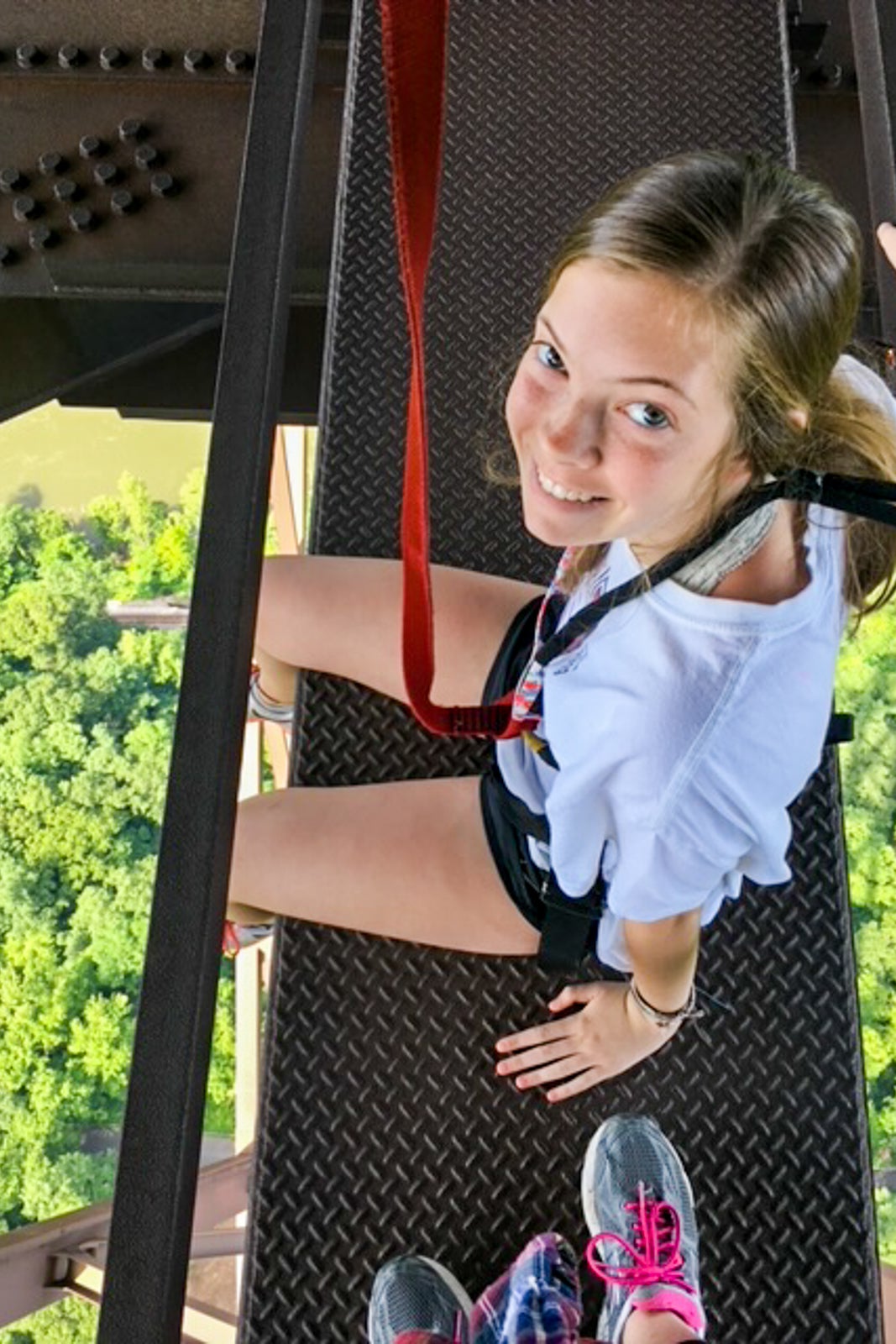 Related: Adventure travel with kids: Why I don't let my fears stop my children
We were secured to a cable the entire time, stopping every few feet so our guide could share the bridge's history and facts about the area. Frequent pauses in our walk gave me the confidence to push through. Each October on Bridge Day, West Virginia's largest single-day festival, more than 700 brave souls rappel or BASE jump from the bridge. No, thank you.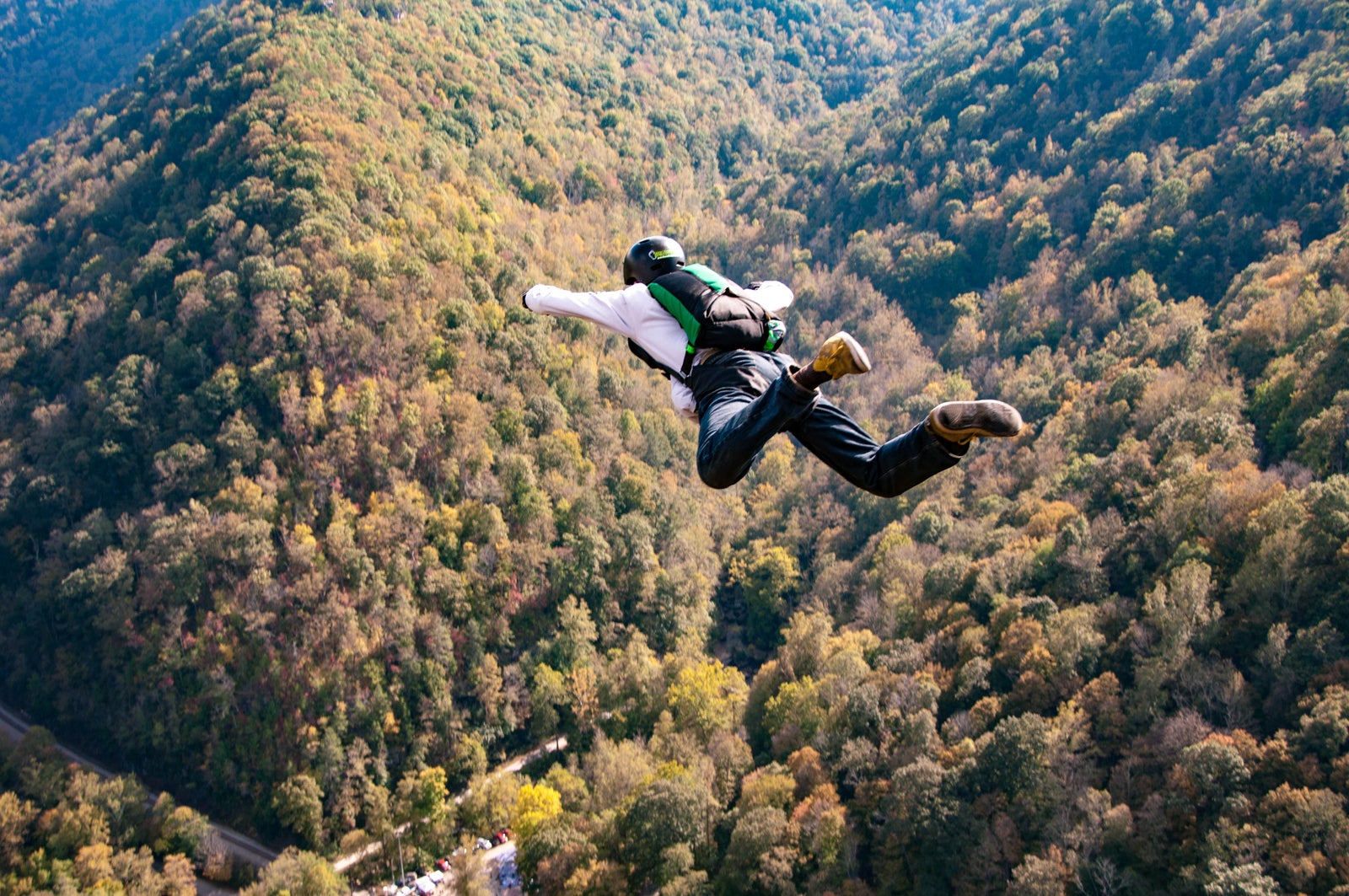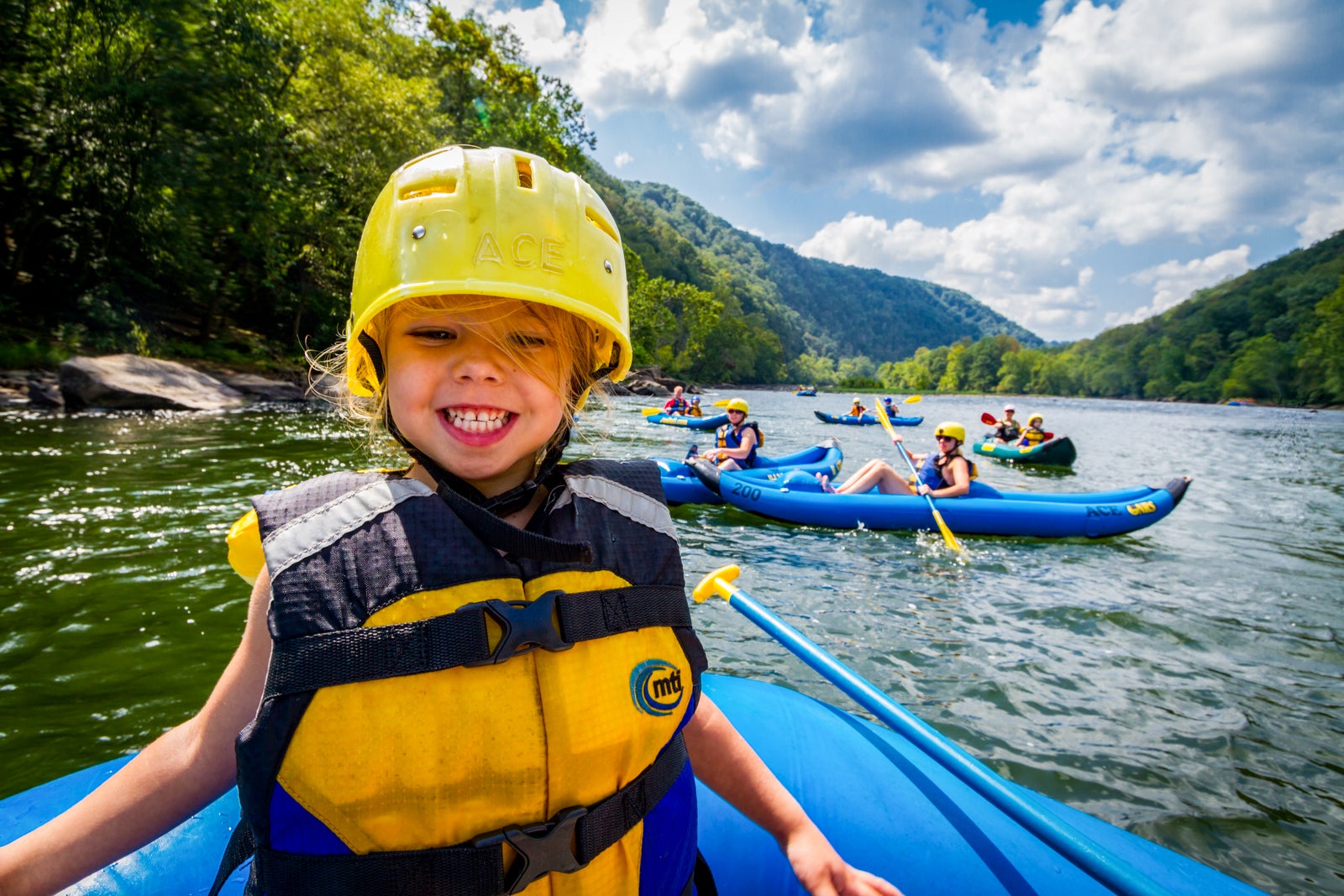 Whitewater rafting
I braved my first-ever whitewater rafting experience on the Upper New River. It's a gentler section and ideal for newbies. Here you can ply more than 15 miles of Class I and Class II rapids. If you're a seasoned rafter, opt for the Lower New River, with more challenging Class II to Class V rapids. Outfitters like ACE Adventure Resort, Adventures on the Gorge (more on those two below), New & Gauley River Adventures and others offer varied half-, full- and multi-day rafting trips.
Summersville Lake
Although this lake (the state's largest) isn't within the NRG National Park and Preserve, it's just about 20 minutes north of New River Gorge and definitely worth a visit. Summersville Lake is a reservoir formed by a rock-fill dam of the Gauley River. It was constructed between 1960 and 1966 by the United States Army Corps of Engineers to help control flooding in the area. The town of Gad (or remnants of it) lies below the surface. Typically dams are named after the town in which they're constructed. Town officials thought "Gad Dam" didn't quite work, so they named it for the next nearest town — Summersville.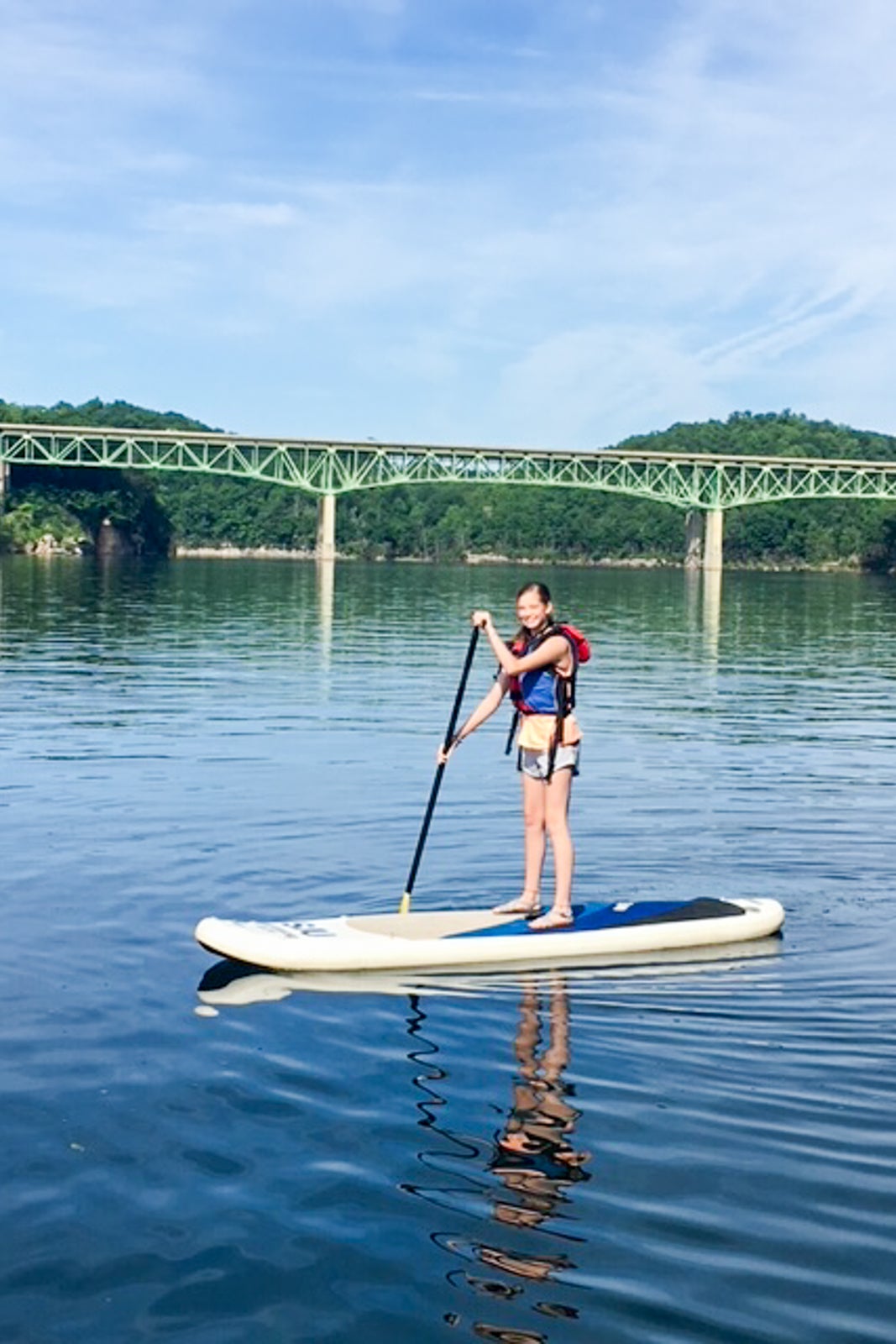 Hemmed by striking sandstone cliffs, the 2,700-acre lake provides inviting coves along which to swim, kayak or stand-up paddleboard. A few large boulders make for an ample base from which to jump into the water and relive your childhood.
Related: Forget the ocean: 8 amazing lake vacations to take in the US this summer
Hiking, biking and climbing
With more than 100 miles of hiking trails, there are almost limitless ways to explore the park. From shorter, gentler trails to routes that test your endurance, there's a path for every type of hiker.
Easy-to-moderate options include the Tunnel Trail, which is less than a mile round-trip and features a narrow cave (the tunnel) running through a cliff. The milelong Sandstone Falls Trail is named for the New River's largest falls, found along this hike. For a longer trek, hit the 3-mile out-and-back Endless Wall Trail for stunning views of the New River Gorge Bridge.
Although just over a mile and a half round-trip, the Kaymoor Miners Trail is one of the park's toughest. Hikers traverse steep descents with stairs and switchbacks that lead to the historic Kaymoor coal mine site.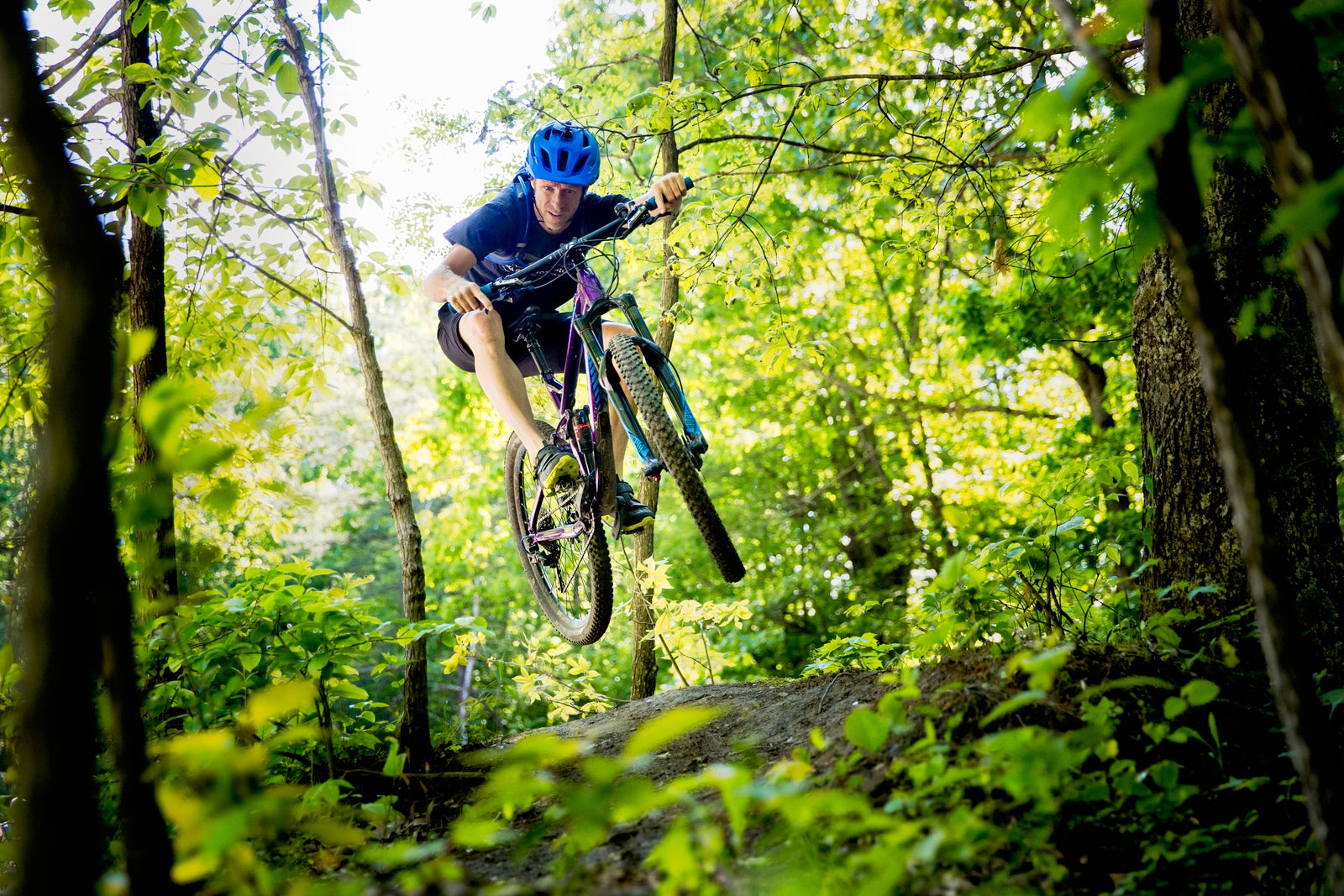 Mountain bikers flock to the NRG National Park and Preserve thanks to the varied terrain and awe-inspiring landscapes. Casual riders and hard-core mountain bikers will both be sated.
The park's nearly 14 miles of Arrowhead trails consist of four mountain bike loops ranging from easy to intermediate. They're stacked loops — loops within loops — that you can ride in any combination. Families will enjoy the Clovis Loop, the easiest, and at just a mile long, an ideal introduction for kids wanting to try mountain biking. Other trails within Arrowhead are the easy-to-intermediate Adena Loop (6.2 miles round-trip) and intermediate loops Dalton (12.8 miles round-trip) and LeCroy (3.2 miles round-trip).
Please remember, you'll likely share your trail with hikers, so stay alert.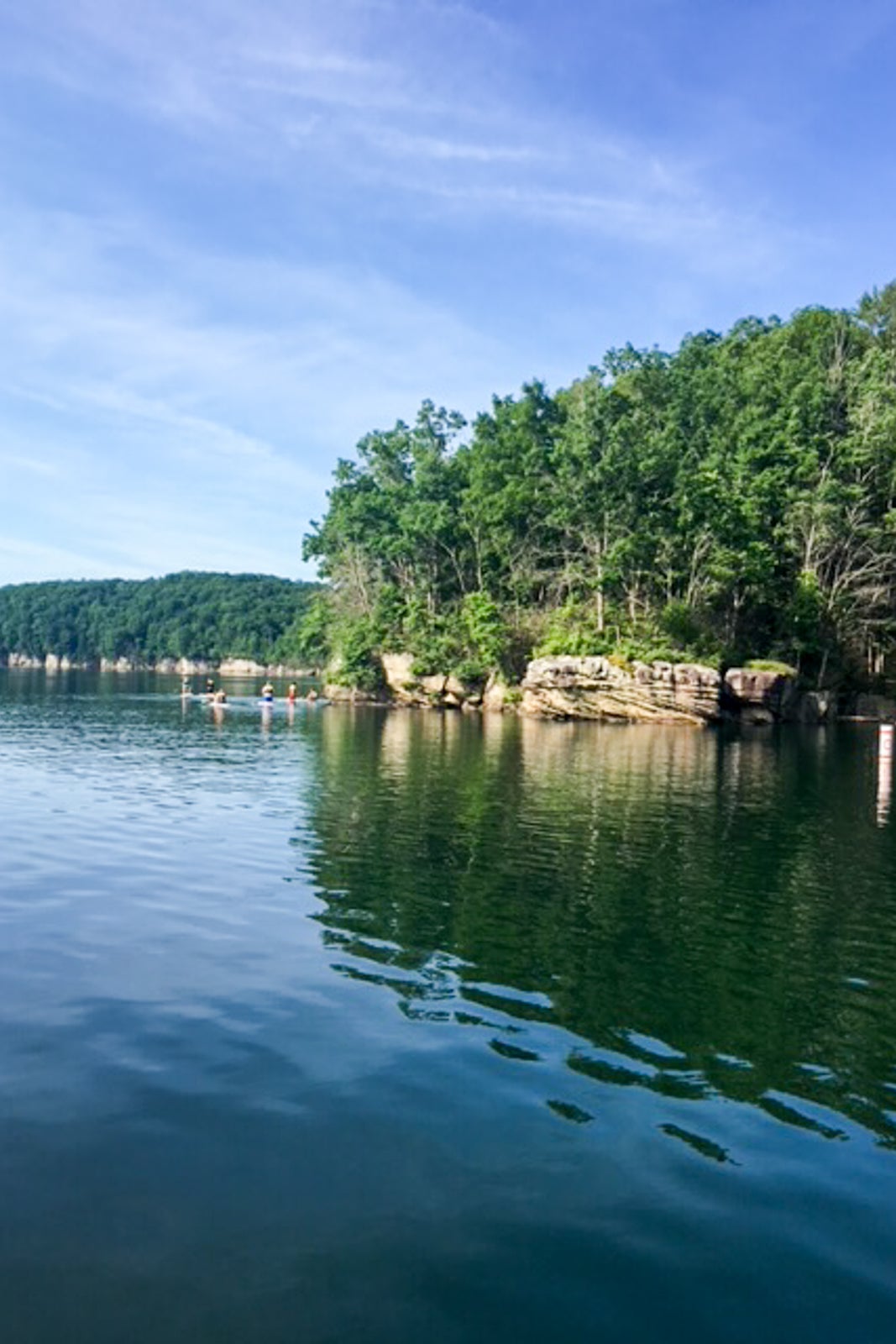 Related: How to leave no trace when hiking
Often referred to as the "Grand Canyon of the East," the New River Gorge region is home to more than 3,000 established rock climbing routes on over 60 miles of cliff line. About 1,400 climbs are within the NRG National Park and Preserve. Typically, optimal times of the year to climb are April and May, and from September through late October.
Although the routes here are best suited for more advanced or expert climbers, beginners can learn the basics with guided tours or private classes from local outfitters.
Best time to go
I visited the NRG in mid-June and enjoyed nearly perfect weather. Anytime between April and October is a good bet, though. Spring brings a tapestry of color beginning with riverside blooms of bloodroot and trout lily in early March. The forest is blanketed with Virginia bluebell, trillium, Dutchman's breeches and wake robin in April. The end of May boasts displays of flame azalea, Catawba Fraser magnolia and tulip poplar.
The first tinge of fall color shows up in September, arriving first at higher elevations and gradually descending as autumn continues. Mountains explode in vibrant crimson, cinnamon and gold, with peak viewing around the third and fourth weeks of October. The aforementioned Bridge Walk tour provides unparalleled views of fall colors, but if you plan to visit the weekend of Bridge Day (Oct. 15 this year), plan ahead. The day after Bridge Day is typically the park's most-visited one of the year.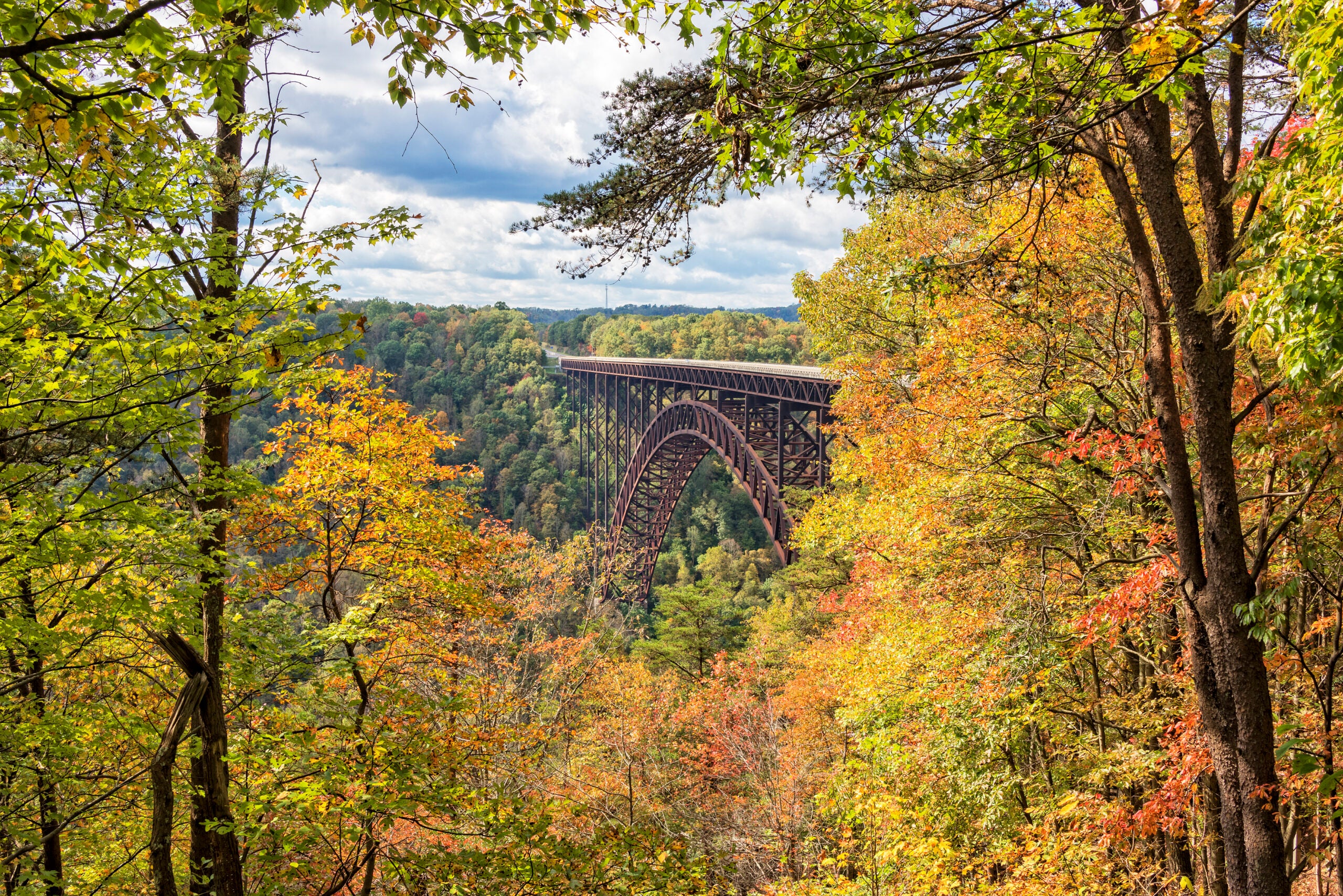 Where to stay
I set up camp (and by "camp" I mean an air-conditioned, fully plumbed cabin that was blissfully comfortable) at Adventures on the Gorge resort. Accommodations here range from tent camping and rustic cabins to deluxe cabins and luxury vacation rentals (both with hot tubs).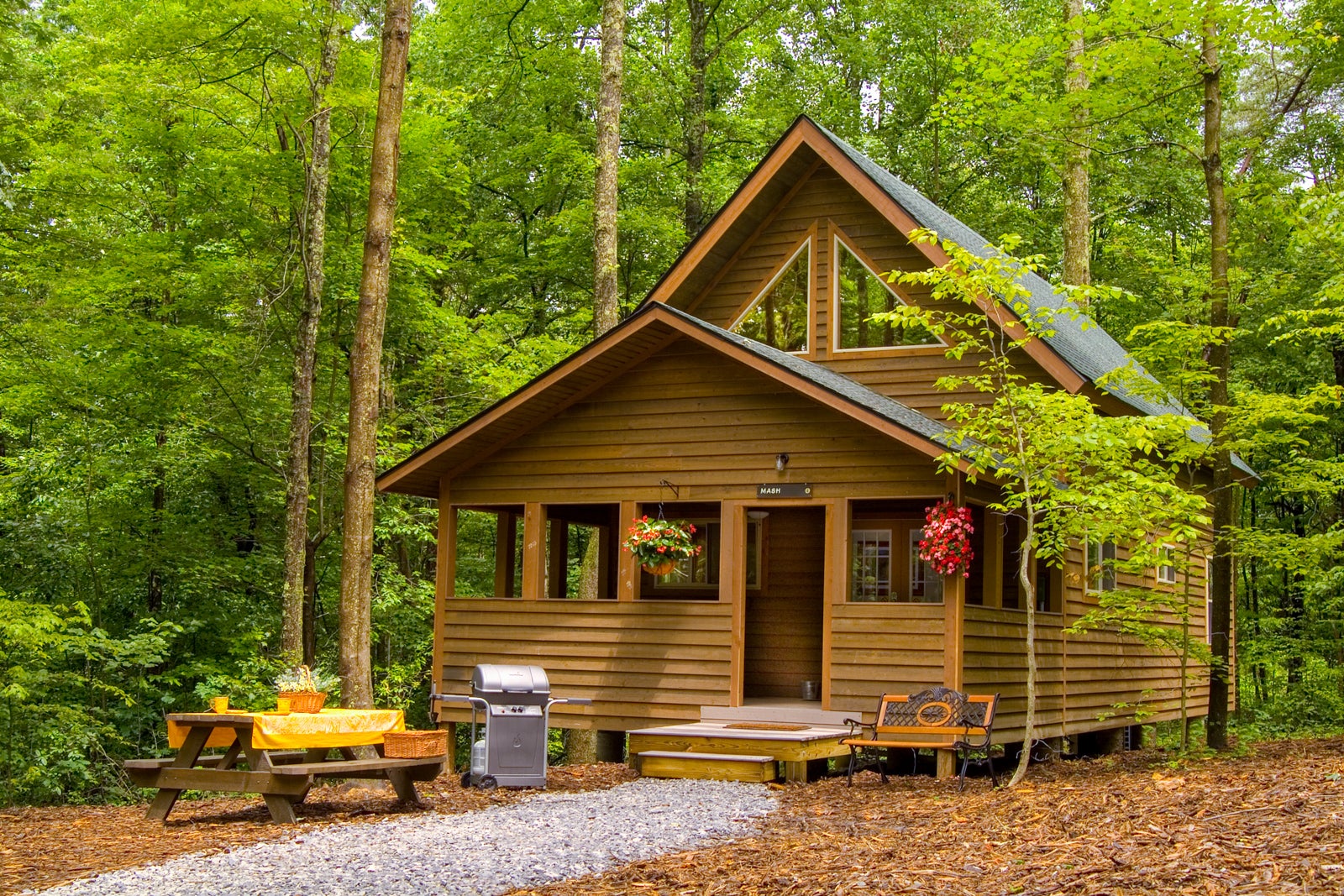 The resort is ideally perched on the rim of the New River Gorge, providing convenient access to area excursions to Summersville Lake, the Gauley River National Recreation Area and other attractions — many of which can be booked through the resort.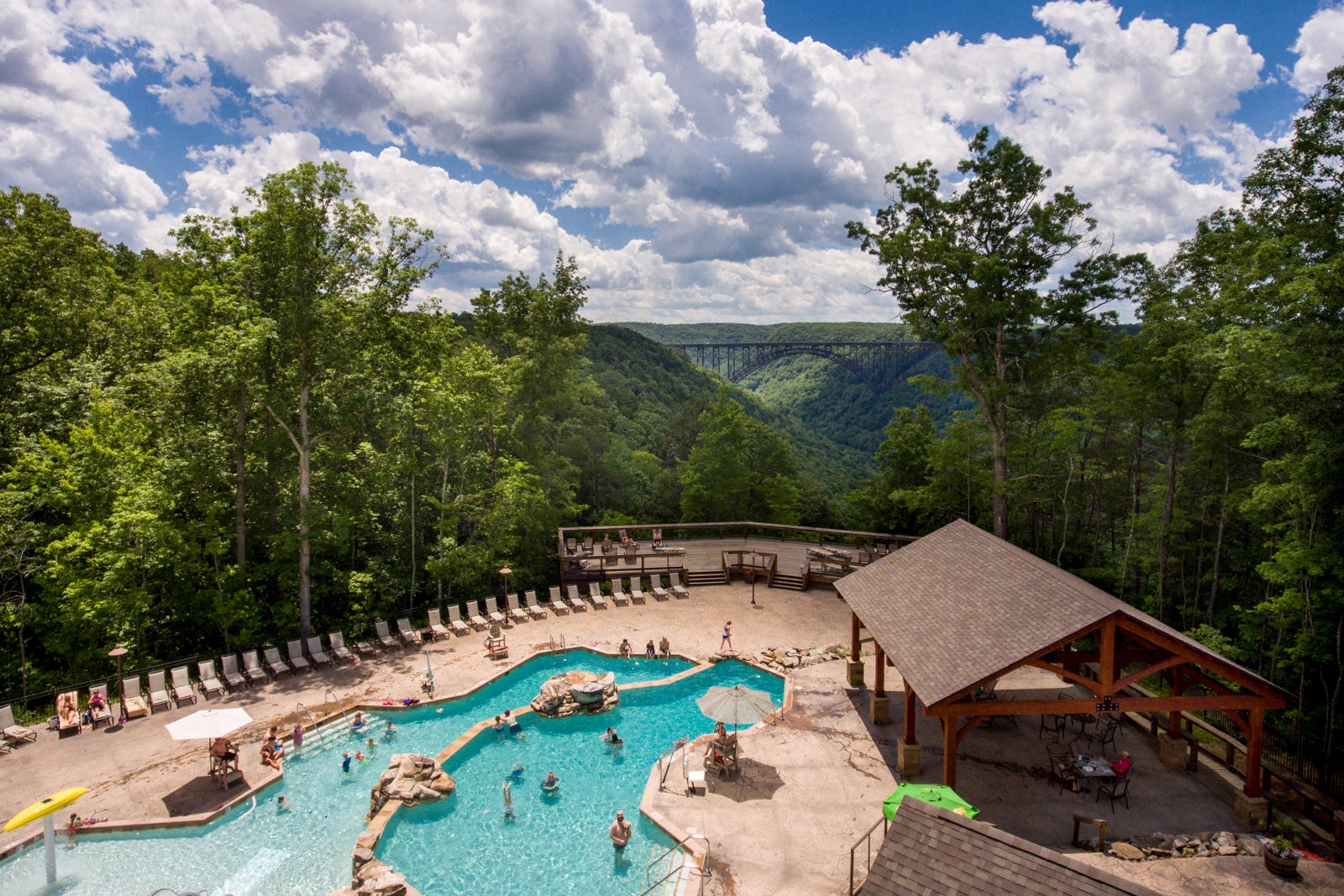 On site, guests have access to hiking trails, zip lining and aerial adventures. The property also includes a pool, conference center and three restaurants – with incredible views from almost any vantage point on the resort's 250 acres.
Situated beside the NRG National Park, the ACE Adventure resort spans some 1,500 forested acres teeming with diversions. Guests can play on a bevy of inflatables in the resort's own Adventure Lake water park or spend the day at one of the two smaller lakes designated specifically for fishing. There are also miles of hiking and biking trails to explore. Additionally, the resort offers guided trips for all interests: mud obstacles, zip lining, whitewater rafting, ATV tours, climbing, paintball and more. ACE offers a Kids Camp tailored around parents' activity schedules. Full- and half-day camps include time at the water park and hiking trips, as well as arts and crafts projects.
The resort is also home to the Mountain Music Festival, often touted as the state's best. More than 30 bands will take the stage at this year's event, June 2-4. There's also local food and beer, workshops and local vendors on hand. More than 30 artists from across the country showcase their sculptures, paintings, photography murals and other works at the festival's Pigment Sanctuary Art Gallery.
Related: The best credit cards for attending music festivals
If you just need a place to rest for the night without the extra on-site diversions, you can redeem points at a few local hotels convenient to the NRG National Park and Preserve and other area attractions.
For Hilton Honors members, a stay at Tru by Hilton in Beckley will cost 31,000 points per night. Located off I-64, this newly constructed property is within a mile of West Virginia's iconic Tamarack marketplace and cultural center.
Courtyard by Marriott Beckley is a good bet for Marriott Bonvoy members. Rooms will cost 20,000 award points for an off-peak stay and 30,000 points during the peak season. Keep in mind, Marriott's switch to dynamic pricing means a redemption rate increase on certain categories.
Redeem 21,000 points for a two-bedroom accommodation at the Holiday Inn & Suites Beckley, an IHG Hotel. You can also spend 11,000 points plus $76 or 16,000 points plus $38 for the same stay.
Bottom line
If you crave time outdoors full of stunning views, natural wonders and exciting excursions, the New River Gorge National Park and Preserve is for you. There are plenty of activities for adventurous families, friend groups or solo travelers, and you don't have to be an expert outdoorsman to get in on the action.
Featured photo courtesy of ACE Adventure Resort.