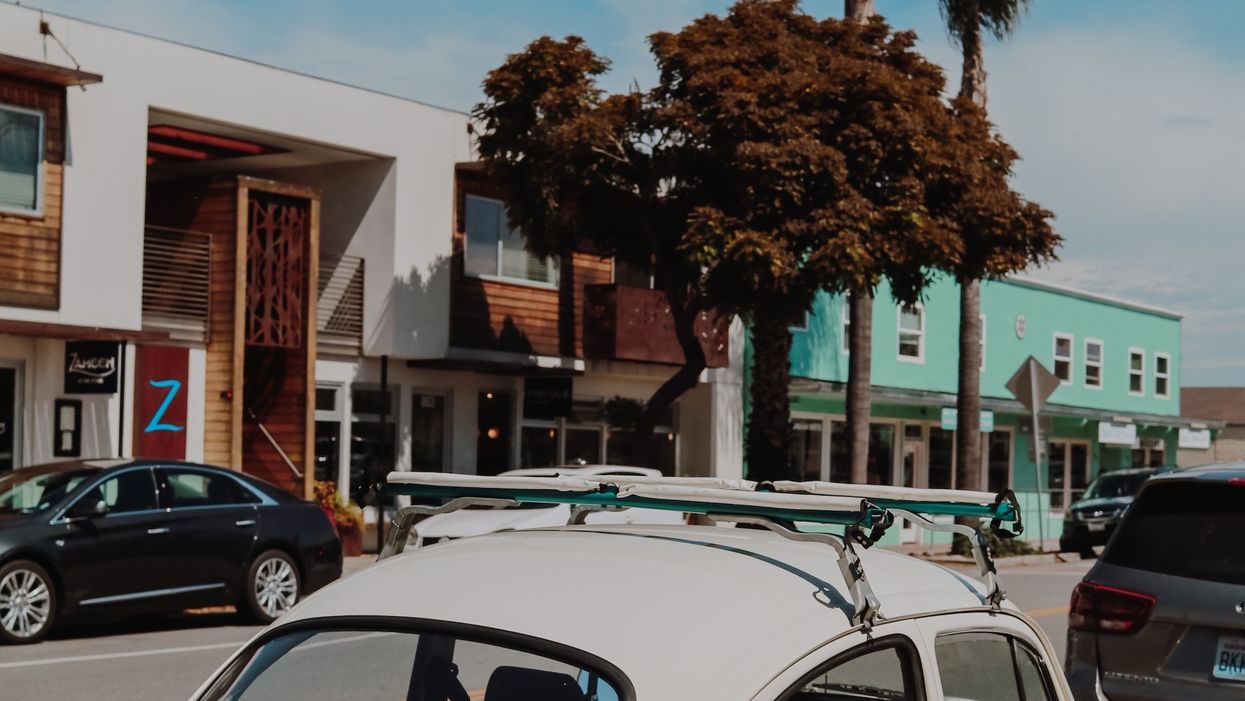 Home to endless breweries, curated boutiques, and produce-driven eateries, Santa Cruz has, in recent years, been quietly redefining a style once dictated by a scruffy mix of surfers, students, and free spirits.
Since the coronavirus pandemic struck, Santa Cruz, like everywhere else, pressed the pause button on its burgeoning business scene, but those vintage beach vibes have remained Covid-proof.
---
At press time, Santa Cruz remains under California's stay-at-home order, though the local economy has begun the slow process of reopening. If you are not a Santa Cruz local and are considering a visit, please check safety guidelines and the latest information from the City of Santa Cruz before traveling.
It shouldn't need stating that we must all do our part to prevent the spread of the coronavirus, and while some Californians are choosing to travel, many continue to shelter at home. If you do hit the road, limit pit stops by packing your own snacks and water; keep your activities outside; keep your distance; wear a mask; wash your hands; and be respectful of local communities.
Here's what's currently open in Santa Cruz, from by-appointment shopping to socially distanced beer gardens.
Restaurants in Santa Cruz
Bantam
Since 2012, a Chez Panisse alum has been firing up delicious Neapolitan pizzas with bubbly crust and a nice char at Bantam, which is currently open for takeout and patio dining Tuesday through Saturday from 4pm to 8pm. Salads and starters—like the watermelon salad and chicken wings—plus 10-ounce cocktails shouldn't be missed. In addition to pies or four-piece fried chicken dinners, grab pantry items including sourdough starter, pizza kits for later, and castelvetrano olives. // 1010 Fair Ave Suite J, bantam1010.com
The Kitchen at Discretion Brewing

On Thursday through Sunday evenings, pay Discretion Brewing's expanded outdoor beer garden a visit for brown box picnic-style meals prepared by chef Santos Majano of the Kitchen at Discretion. For $50, you'll receive two cans of Discretion Brewing's award-winning, organic ale plus a changing three-course meal for one. Dishes might include a wheat berry salad with grilled summer squash and avocado, barbecue pork, and Valrhona chocolate mousse. Reservations fill up quickly so plan your visit in advance; the $25 non-refundable reservation deposit will be credited back towards your dinner. Alternatively, on Mondays, Tuesdays, and Wednesdays, order ahead for farm-driven comfort food to go including three-course meals, fried egg sandwiches, and cheeseburger and milkshake combos. While you're there, you may as well pick up a four-pack for later. // 2703 41st Ave. Ste. A, Soquel, kitchenatdiscretion.com
Oswald
A mainstay in downtown, Oswald is a city-savvy restaurant with a great bar and localized version of California cuisine. Dine-in is available by reservation only, with limited seating Wednesday through Saturday evenings from 4pm to 8pm. Comforting fare includes broccoli and cheddar bread pudding, roasted chicken breast, and beef lasagna. Be sure to check out the eatery's rotating collection of local art, or grab takeout. // 121 Soquel Ave., reservations required, oswaldrestaurant.com
Home
If you miss this restaurant's appearances at Santa Cruz farmers markets on Wednesday, Saturday, and Sunday, don't miss out on a trip to Soquel to dine at Home. Score a seat in the sunny garden (or limited indoor dining room) for seasonal, produce-driven fare—think summer squash with pecorino; ricotta gnocchi with maitake mushrooms, corn, sage butter, and truffle oil; and halibut crudo with avocado and padron peppers—and an extensive selection of California wines by the bottle. You can also call ahead to pick up ready to warm to go dishes including shepard's pie and lasagna. Don't skip take-home goodies like porchetta, Soquel honey, and farm eggs or pizza on Sundays. // 3101 N. Main St., Soquel; homesoquel.com
Abbott Square Market

Abbott Square Market, next to the Santa Cruz Museum of Art & History, has a selection of vendors to satisfy your every craving, plus a patio complete with sanitized seating and clean/dirty markers perfect for socially distanced dining. Offerings include Neapolitan pies from Pizzeria La Bufala, poke bowls from Daisuki Octagon Sushi, po boys from Roux Dat, and seasonal cocktails from Front & Copper. // 725 Front St., abbottsquaremarket.com
To-Go Only
La Posta

Dante Cecchini, formerly of Marlowe and Fiorella in San Francisco, took over the kitchen of this Seabright Italian eatery in 2019. Know for their housemade pasta dishes and sourdough bread made with 30-year-old starter, La Posta curbside pickup is a must while the dining room remains closed. Call on Thursday through Sunday evenings for fresh, ready-to-eat dishes including corn and crescenza agnolotti, pizza with housemade sausage and pickled peppers, and roasted figs with burrata and prosciutto—or heat-and-serve dishes for two including ravioli with basil pesto and chicken tortellini. // 538 Seabright Ave., lapostarestaurant.com
Food Lounge
Although gathering on the garden patio with lights for food, drinks, and events including ukulele, singer-writer showcases, art walks is not an option right now, you can still order online for curbside pickup from this convivial venue's gourmet collaborators. Order a plate of Korean fried chicken from Kickin Chicken or gyoza and spicy miso chicken ramen from Full Steam Dumpling, plus beer by the pint or can. // Food Lounge, 1001 Center St., scfoodlounge.com.
Coffee + Snacks in Santa Cruz
Companion Bakeshop
Companion Bakeshop, known for hearty loaves—mostly made with sourdough starter—gained a local following from CSAs and farmers markets before opening its permanent locations. While their Abbott Square Market location is currently closed, regulars can stop by the original Westside outpost or Aptos shop in the mornings for buttery ham and gruyère croissants, rich tea cakes, and a proper pour of Cat & Cloud Coffee. Can't pick just one pastry? Order a gluten free, butter lovers, or classic shelter box filled with goodies—or a healthy-ish avocado toast kit. // Santa Cruz: 2341 Mission St.; Aptos: 7486 Soquel Dr., companionbakeshop.com
Penny Ice Creamery

This popular-from-day-one institution produces one of California's only ice creams made completely from scratch. True-tasting flavors like strawberry pink peppercorn and blackberry rose change with the season and feature the region's food producers. Pick from three locations—including a brand new one in Aptos Village—but we're partial toward the stylish bolt-hole in Pleasure Point, a neighborhood with a SoCal surf town vibe. Grab a cone on the go, or order take-home sundae kits and pints for pickup. // Downtown Santa Cruz: 913 Cedar St; Pleasure Point: 820 41st Ave., Aptos Village: 141 Aptos Village Way, thepennyicecreamery.com
Verve

The town's popular third wave roaster guarantees strong brew, competent baristas, and a counter full of confections from local bakeries. If you take it sweet, try their Bowl of Soul: tea steeped in soy milk and honey and topped with chocolate sprinkles. Order ahead for quick pickup. // Multiple locations, vervecoffee.com
Mutari

While sampling ethically sourced, single-origin chocolates and sipping bean to cup, European-style drinking chocolates inside Mutari's cafe/factory/shop isn't currently doable, you can pick up or order the goodies delivered straight to your door. On warm days, the luscious frozen hot chocolate is a must. // Mutari, 504 A Front St., mutarichocolate.com
Breweries & Wine Tasting Rooms in Santa Cruz 
Beer Thirty Bottle Shop + Pour House

Santa Cruz is probably the most underrated beer destination in California. The area is booming with breweries and tap houses serving high-caliber brew minus the scrum of popular SF beer locales. For a proper introduction, head to Beer Thirty with a namesake number of rotating taps—and an extensive collection of cans and bottles. Enjoy 'em at spaced out tables in the beer garden strung with lights along with bites from the Carpo's window—then order some more brews to go. // 2504 S Main St., Soquel, beerthirtysantacruz.com
New Bohemia Brewing Company
Brewmaster Dan Satterthwaite honed his craft at a century-old, family-owned brewery in Bavaria before working at Bay Area shops like Trumer Pils. While you can't sit indoors, this fetching Pleasure Point brewery's beer garden—opened mid-pandemic—offers socially distanced seating in the form of rainbow picnic tables on Wednesday through Sunday afternoons and evenings. Big plates of barbecue pair perfectly with Old World lagers and hefeweizens. Take more cans for later—or get beer delivered. // New Bohemia Brewing Company, 1030 41st Ave., nubobrew.com
Surf City Vintners

A collective of wineries in walkable proximity means you can ditch the car—and single lane Santa Cruz mountain roads—and stroll 10 family-owned tasting rooms pouring the region's famed pinot noir. If you're in the mood to taste outdoors (with safety precautions and social distancing, of course), swing by Equinox Winery for sparkling wine, make a reservation at MJA for cabernets, grab pies from Mattia Pizza Truck, and book an hour-long appointment at Santa Cruz Mountain Vineyard for unique Spanish varietals. Staying home? Support Surf City Vintners wineries by picking up bottles for later. // Swift St. & Ingalls St., surfcityvintners.com
Santa Cruz Mountain Brewery

At Santa Cruz Mountain Brewery's revamped beer garden, open Tuesday through Sunday, you'll find a selection of well spaced tables for groups of up to 10 people, available on a first come, first serve basis. Choose from a selection of entirely organic brews (also available to go) including Boardwalk Blonde, a double hopped blonde ale with local honey, and Bonny Hop IPA; hard frescos; and small and big bites—think pretzel with beer cheese and Cubano sandwich—perfect for soaking up all that beer. Don't be deterred on cold days, the beer garden has heat lamps. // 402 Ingalls St. #27; scmbrew.com
To-Go Only
Sante Adairius Rustic Ales
Some of Santa Cruz's best beer can be found at this Capitola brewery and Santa Cruz tasting room. Their richly fragrant 831 IPA should end all discussion and the barrel-aged saisons sip with all the structure and complexity of your favorite vino. Both outposts are closed for the pandemic, but you can still order constantly changing mixed can cases delivered straight to your California doorstep. Check out their Instagram for updates. // 103 Kennedy Dr. (Capitola), 1315 Water St. (Santa Cruz), rusticales.com
Humble Sea Brewing Co
While Humble Sea Brewing Co.'s lively, nautically styled outdoor beer garden is currently closed, to-go brews are on offer daily from noon to 6pm. Choose from an interesting selection of mainly New England–style IPAs, including Socks & Sandals with an aromatic and juicy taste. You can also subscribe to the monthly beer subscription, complete with 16, 24, or 32 cans—and free shipping. // 820 Swift St. humblesea.com
Soif Wine Bar & Merchants
Soif has been Santa Cruz's urbane wine destination for some time, but a major expansion and remodel begs a second look. A reconfigured wine shop stocks local finds like Birichino's Malvasia Bianca, while an expanded kitchen is able to crank out a wider array of refined small plates best enjoyed from the bar pre-COVID. While Soif's doors are closed, give the informed staff a call on Wednesday through Saturdays from 4pm to 8pm and pick up bottles curbside—just provide your style preferences and price range if you're in the mood to try something new. Gourmet takeout dishes include a snapper burger and and fennel-stuffed pork belly. Don't miss out on the bottled cocktails. // Soif, 105 Walnut Ave., soifwine.com
Venus Spirits
Former Gordon Biersch brewer Sean Venus is producing small batches of organic spirits and racking up awards in his shipshape Westside distillery. The tasting room is closed for now, but to-go four-packs of canned cocktails—think vodka mules and gin gimlets—are perfect for bringing to the beach. Order ahead for Tuesday through Saturday afternoon pickup. // 427 Swift St., venusspirits.com
Where to Shop in Santa Cruz
Stripe
Tucked away on a downtown side street, this eclectic shop stocks a meticulous selection of fashionable clothing, gifts, stationery, and accessories—including plenty of California artists, designers, and brands including Katell Le Bourdonnec of Santa Cruz, VSSEL of Bonny Doon, and Lacausa of Los Angeles. Shop in store daily from 11am to 5pm with social-distancing measures or make an appointment for private shopping. Pick up bouquets from Wild Moon Flowers on Fridays and Saturdays. // 107 Wal­nut Ave., stripedesigngroup.com
Berdel's

Style yourself at this modish surf shop stocked with contemporary men's and women's apparel. No big name brands here. Instead, find local and independent labels like Uroko, Outerknown, and Girlfriend Collective that will take you from beach to brewery. Hand sanitize at the door and expect a shopper limit—or order online. // Berdel's, 1233 Pacific Ave., berdels.com
Cameron Marks
After backpacking around Europe and Morocco, Australian designer Vanessa Ambrose settled in Santa Cruz and opened her first sophisticated, boho shop. Her keen sense of style translates to exquisite home goods, jewelry, and women's apparel—much of it handmade by independent designers. With touches of Denmark, Japan, and Brooklyn, it manages to be perfectly at home in this breezy seaside town. Make an appointment or stop by for walk-in shopping Wednesday through Sunday from noon to 4pm with a five-person capacity. // 402 Ingalls St., cameronmarks.com
Home/Work
Seek out this colorful, modern boutique where owner Sonia McMoran draws upon her background as a tech and design journalist to assemble a covetable collection of vintage and contemporary décor handcrafted for home and office. Designers and artists in stock include Sarah Pilchman, Curiosity Lab, and Lili Arnold. While Home/Work is temporarily closed for in-person shopping, find the same covetable goods—and even curated care packages perfect for sending while social distancing—online. // 1100 Soquel Ave., shophomework.com
Dig Gardens
This expansive, modern nursery is a refuge of succulents, air plants, and pottery. Artful arrangements call to mind the vivid seascape of nearby Monterey Bay. Ask one of the staff to help you shape your own terrarium inside a terra cotta pot at the dedicated workstation, get started with a mini home garden with a veggie or herb kit, or brighten up your shelter-in-place space with an orchid. While exploring with a limited number of shoppers, you might even see proprietors of the other spots listed here, all of whom frequent the shop. // Santa Cruz: 420 Water St.; Aptos: 7765 Soquel Dr., diggardens.com
Midtown

Thank to its colorful facade, this Midtown surf shop slash coffee bar is hard to miss. In addition to stocking beachwear from brands like Rusty, Beach Riot, and Billabong, and new and used boards of course, Midtown offers private surfboard shaping courses onsite and board repairs. After shopping—in a mask of course—fuel up with specialty coffee drinks including an horchata latte and coconut cream mocha, plus breakfast eats like avocado toast and egg & cheese paninis. // 1126 Soquel Ave., midtownsurfshop.com
Hotels in Santa Cruz
Dream Inn
This retro-chic stay kitted out in '70s-style furnishings has been completely renovated and remains the only beachfront hotel in Santa Cruz. The lounge is dressed in bright colors and graphic surf boards, and you can order Verve coffee from a bike cart. The hotel has launched a program in partnership with Bedside Reading, a book marketing program that places all kind of books in luxury hotels around the country, so each room has something to read and to take home. Expect increased sanitation in guest rooms and common areas including the pool deck, contactless check-in, and more safety precautions. // 175 W Cliff Dr., dreaminnsantacruz.com
Hotel Paradox
The Paradox is a surprisingly chic boutique hotel with a playful, forest-themed interior. SF's Orlando Diaz-Azcuy Design drew inspiration from redwood trees dotted about the property for features like a front desk made from a giant felled tree, a ceiling mural of a tree-branch cluttered sky, and resin squirrels scampering about. Don't miss the sunny pool deck—just be sure to wear your mask and social distance. Rest assured that Hotel Paradox is Clean + Safe Certified with standards including guest room door seals, social-distance markers, and increased sanitation. The onsite restaurant, Solitaire, is currently closed so plan to visit other Santa Cruz dining spots. // 611 Ocean St., hotelparadox.com
Outsite
It's laptops and leisure at Outsite's Santa Cruz coworking and lodging properties. Whether you stay a night or a month while working from home, you'll find like-minded digital nomads and entrepreneurs enjoying a fully equipped office and living space. Choose between the Oxford House, a West Cliff craftsman home—and Outsite's first location ever—located just one block from the Monterey Bay, and the Greenhouse, an eco-conscious property with a hot tub. While you can still stay at Outsite—long term bookings are encouraged—Outsite's COVID-19 response and guidelines include contactless check-in, no visitors, online events only, and professional cleaning. // Locations are both in West Cliff, outsite.co.
West Cliff Inn
Housed inside an 1877 mansion on "Millionaire's Row," West Cliff Inn offers 10 guest rooms with plenty of Victorian charm, ocean views, and modern amenities. No two rooms are the same, so choose from spaces with separate seating areas, an outdoor hot tub, fireplaces, and more. During the pandemic, West Cliff Inn is taking extra precautions to provide guests with a safe and enjoyable stay with enhanced cleaning procedures (but no housekeeping during your stay), complimentary breakfast in bed or in the dining room by reservation, and quicker check-in. // 174 West Cliff Dr., westcliffinn.com