On July 10, 

ONE: A Global Sale of the 20th Century

 will be highlighted by Roy Lichtenstein's monumentally scaled, 



Nude with Joyous Painting (estimate in the region of $30 million). Painted in 1994 and belonging to an important private American collection, Nude with Joyous Painting is a tour-de-force of Lichtenstein's consummate series of nudes that are acclaimed as the summation of his late career. The Nudes mark Lichtenstein's return to the comic-book heroines that propelled him to fame in the early 1960s and together, they rank among his most significant bodies of work. Culled from his prodigious archive of vintage comics, the Nudes marry Lichtenstein's Pop Art sensibility with the most storied subject in the history of Western art—the female nude. "The later women paintings and nudes that Roy did are just absolutely gorgeous," the artist Jeff Koons has affirmed, "in terms of beauty and engaging imagery—interesting, viral imagery—-the women are fantastic." This sale will mark Nude with Joyous Painting's auction debut.
Ana Maria Celis, Head of Evening Sale, Post-War and Contemporary Art, remarked: "Nude with Joyous Painting is an iconic example of Lichtenstein's series of Nudes. This tour-de-force of Pop Art marks his return to the comic book heroines that launched his career in the early 60s. In this work, the beautiful heroine is caught in dramatic moment of suspense in stark contrast to a jubilant interior scene."
The present work joins the ranks of the most important examples of Lichtenstein's Nudes that have been offered at auction. Christie's leads the market for this iconic motif, having sold the artist's top two most expensive nudes, including Seductive Girl, 1996 for $31.5 million in 2013, and Nude with Red Shirt, 1995, for $28 million in 2012.
Shortly after it was painted, Nude with Joyous Painting was debuted at Leo Castelli's SoHo gallery in November of 1994. There, it was included in a group of seven breakthrough large-scale nude paintings, several of which are in major American public collections, including Nude at Vanity, 1994 (San Francisco Museum of Modern Art, the Doris and Donald Fisher Collection) and Nude with Pyramid, 1994 (The Broad, Los Angeles).
As a series, the Nudes were the first body of work that Lichtenstein undertook following his extensive Solomon R. Guggenheim Museum retrospective in New York in 1993. The series 
Picasso's
Les femmes d'Alger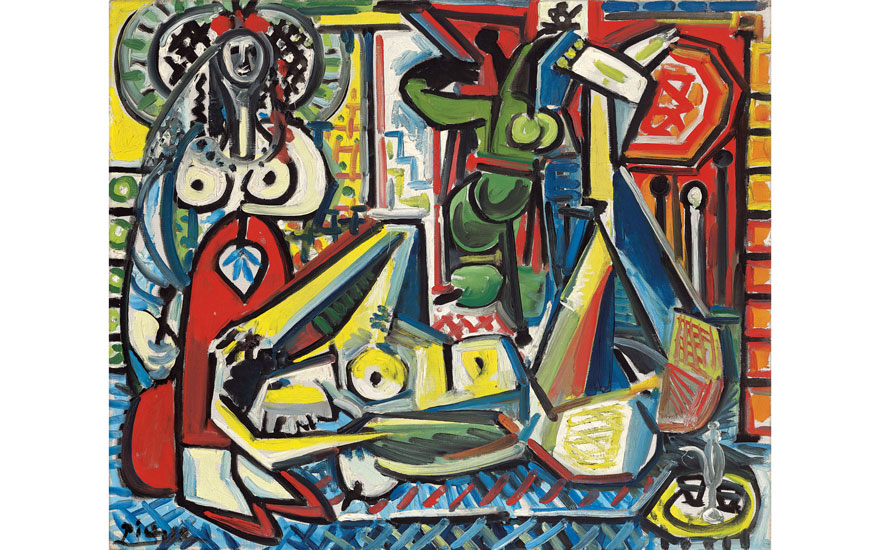 Picasso's series of 15 canvases based on 
Eugène Delacroix's
 masterpiece 
Les femmes d'Alger
  probably rank as his greatest achievement in the decades that followed the Second World War.
He created them in a burst of activity between December 1954 and February 1955, assigning each work an identifying letter, from 'A' to 'O'. On 10 July, the sixth painting in the series — Version 'F' — will appear at auction for the first time, in a trailblazing Christie's sale called ONE.
He painted it on 17 January 1955, aged 73. 
Delacroix's Les femmes d'Alger
  had fascinated him for decades. According to the memoirs of his ex-lover, Françoise Gilot, he would visit the Louvre every month just to stare at it. When she asked what he thought of Delacroix, 'his eyes narrowed and he said: "That bastard, he's really good."'
It wasn't until late in Picasso's career that he set about his series of radical reworkings, though. It was prompted by two events in swift succession. One was the arrival in his life of the woman who replaced Gilot in his affections, 
Jacqueline Roque
 — who he thought looked uncannily like one of the three 
odalisques
  in Delacroix's harem scene.
The other — much sadder — event was the death of his dear friend and rival, 
Henri Matisse
, in November 1954. The Frenchman had painted a host of stunning odalisque figures in the 1920s and 1930s, and Picasso now felt inspired to attempt his own. 'Matisse left his odalisques to me as a legacy,' he said
Each of Picasso's 15 canvases is a marvel of invention. What makes Version 'F' stand out is the way it marks a bridge between the first phase of the series (of regular-sized canvases) and the second, final phase (featuring much larger works).
Version 'F' is the culminating picture of the first phase, both brilliantly coloured and spatially ingenious, a composition so fully resolved that Picasso now felt ready to tackle bigger canvases.
His palette is scorching, comprised principally of saturated red and gold tones. The airy white passages found in his previous versions of Les femmes d'Alger  are gone, replaced by a dense, expressive weave of Matissean pattern and colour. More than any other painting in the series, it conveys the hothouse atmosphere of a harem.
The scene is dominated by an odalisque sleeping. She manages both to stretch out across the bottom of the canvas — pushing up against a fellow odalisque, who's smoking, on the left — and extend her legs vertically towards the top of the canvas on the right.
Where Version 'F' marked the end of the first phase of Picasso's 
Les femmes d'Alger  
variations,
Version 'O'
 marked the triumphant end of the second — and the series as a whole. In May 2015, the latter sold at Christie's in New York for $179.4 million, then the world-record price for an artwork at auction.