Hit the road Jack~🎶Seriously though, who doesn't love a good road trip? Ontario has so much to offer that while many flock to bigger destinations like Toronto, Ottawa and Niagara Falls, the true way to experience the province is with the open road. There are so many places best explored by a car that you'll be missing out without one! Whether you're looking for a weekend trip or a week-long adventure, these are the best Ontario road trips!
Below you'll find a number of amazing Ontario road trip ideas including scenic drives, arts and culture, family-friendly destinations and more. No matter your interests, I guarantee you'll be inspired to plan a future adventure.
SOMETHING TO NOTE: Since Toronto not only has a large population but is also a huge travel hub, these destinations are centred around leaving from there. This doesn't mean you can't enjoy these road trips in Ontario from a different starting point! I'm sure that's a given but just thought I'd clarify… just in case.
Ontario Day Trips
These destinations are all within two hours of Toronto which make them perfect Ontario day trips from Toronto. However, that doesn't mean you can't stay longer! All of the destinations in this section deserve more than just a day trip to truly explore them.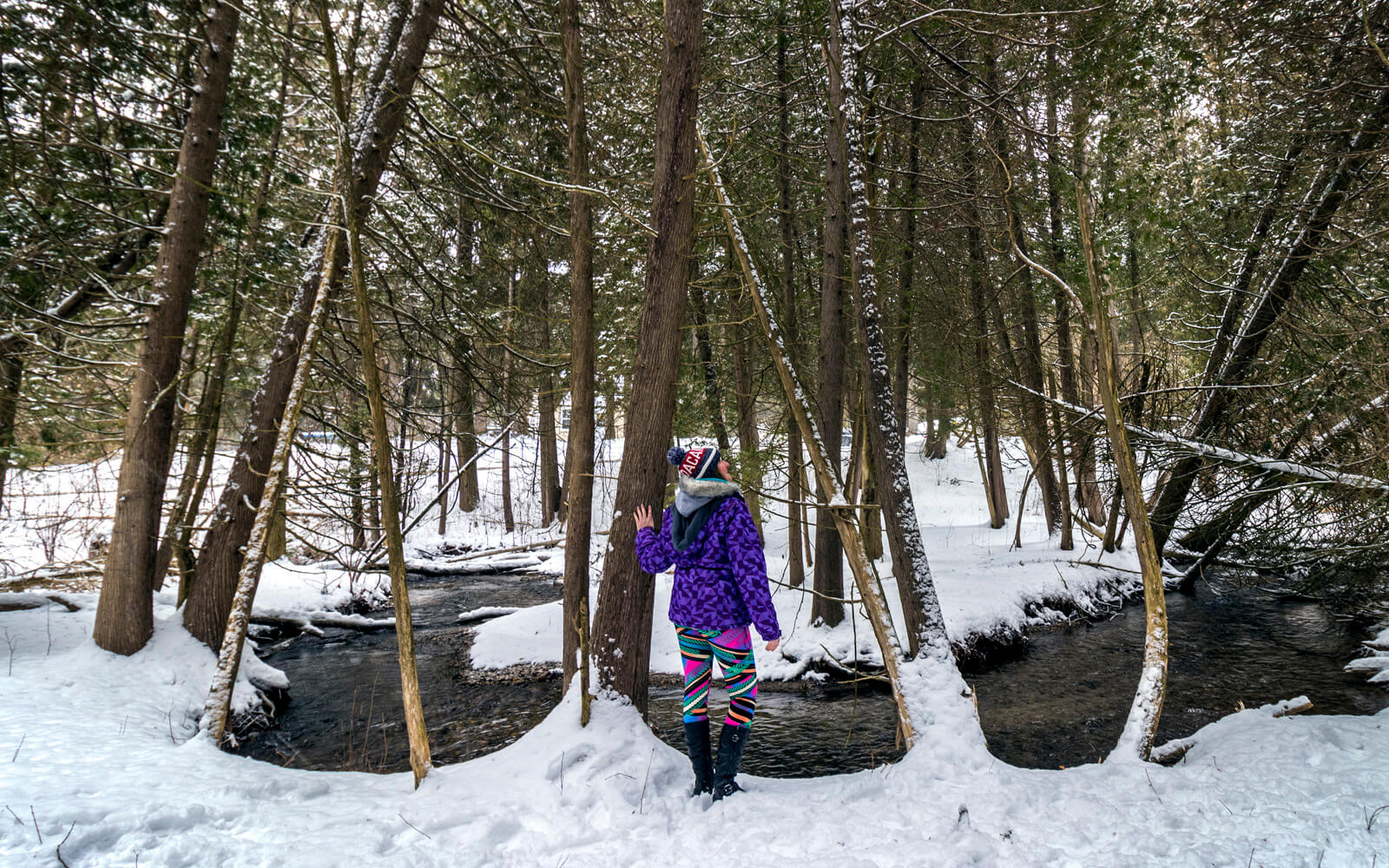 Durham Region
Just an hour from downtown Toronto, you'll find beauty comparable to Northern Ontario. While I've mainly explored Durham Region in the winter months, this is easily a year-round Ontario day trip destination. If you're unsure where I mean by Durham Region, I'm talking about the cities and municipalities of Ajax, Brock, Clarington, Oshawa, Pickering, Scugog, Uxbridge and Whitby as well as Mississaugas of Scugog Island First Nation.
Within Durham Region, you'll find a number of incredible craft breweries, great restaurants and small town hospitality. Though if you're going to go anywhere in the region, I highly recommend heading to The Hive Bed and Breakfast in Orono. At this "bee and bee", you can participate in the practice of Shinrin Yoku – more commonly known as forest bathing. Follow the calming presence of owners Kevin and Elsii as they guide you on a walk through the forest on their property. This isn't like a hike (though I'm sure there are plenty of great trails around!) as you're focusing on your five senses. Almost like a moving meditation, you become hyper-aware of your surroundings: the smell of the cedar trees, how the bark feels beneath your fingers, the sound of the wind through the leaves. I'm not the most spiritual person out there (though I am believing more and more thanks to prominent life experiences) but this calming exercise is truly soothing for the soul. Whether you need a break or not, I guarantee you'll feel a weight lift from your shoulders that you didn't know was even there in the first place.
That's not all Durham Region has to offer though! There are a number of beautiful conservation areas, a flourishing arts and culture scene and plenty of fishing opportunities just to name a few. You can even visit an old POW camp… if you dare! Whatever you choose to do, I guarantee you'll have a memorable time in Durham Region.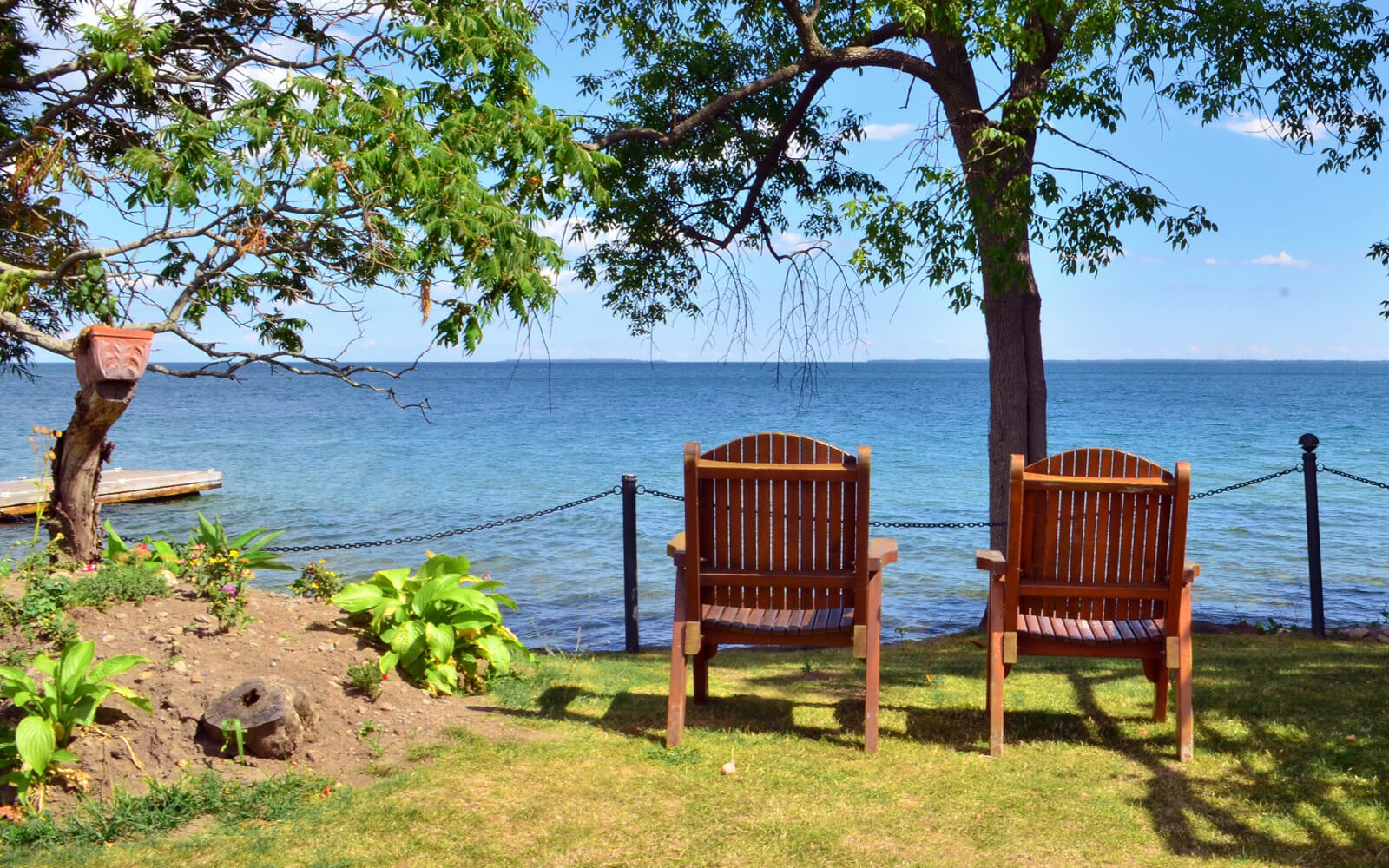 Prince Edward County
Just 90 minutes east along highway 401 and you'll see signs for Trenton and Carrying Place, leading you to the getaway for Prince Edward County! It's comprised of nine townships each with something unique to offer visitors exploring the area.
Prince Edward County is home to not one but three provincial parks:  Sandbanks, home to beautiful sandy beaches; its smaller, calmer sibling at North Beach; and Lake on the Mountain – home to the mysterious body of freshwater with no apparent source. Any of these parks are great for a family outing filled with swimming and picnics. Don't feel like making anything? That's perfectly fine as there are plenty of food trucks and restaurants throughout Prince Edward County! If you're a cyclist, you'll definitely want to bring your bike and tackle the Millennium Trail through sprawling vineyards past century farms. There's even an alpaca farm which is sure to be a treat no matter how old you are!
Would you rather take a load off and leave the exercise for another day? Prince Edward County is home to over 30 wineries just waiting to share their vintages with you. You'll also find a number of art galleries and historical buildings for the more culturally inclined. With some wellness retreats and even a lavender farm, you can easily find a little peace and quiet during this Ontario road trip.
Whether you come for the unique geological formations of PEC's provincial parks or to do some touring of the area's wineries, Prince Edward County is the perfect way to escape for a day.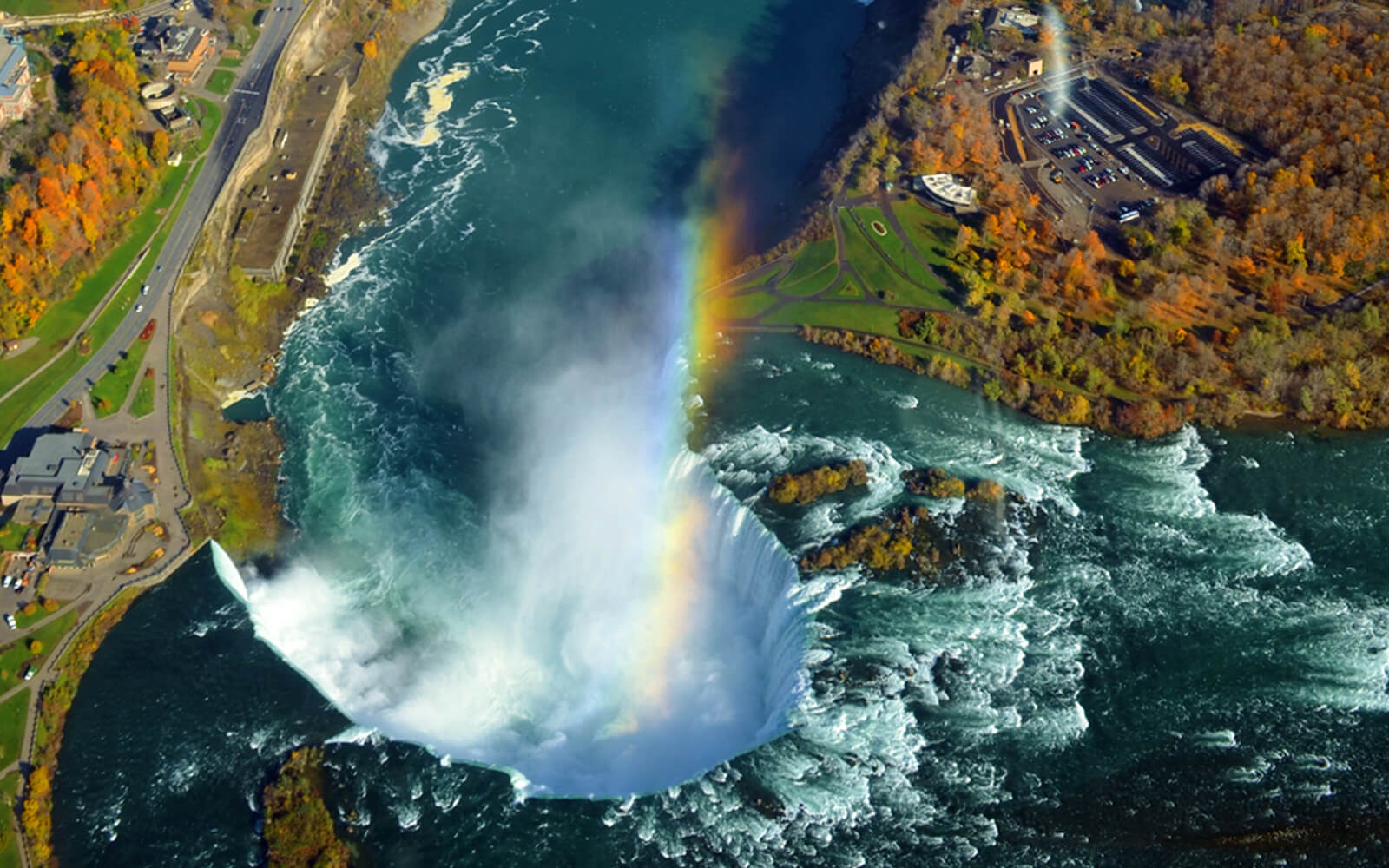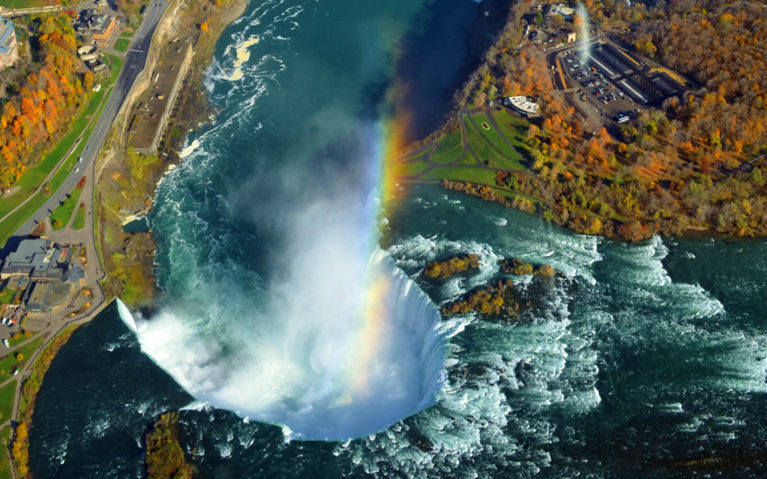 Niagara Falls
What is arguably the biggest tourism destination in Ontario, 30 million people visit Niagara Falls each year. As someone who grew up in the area, I completely take the beauty of the Horseshoe Falls for granted. I mean, it's a bucket list item for so many people! While I don't visit as often as I should, I've still been a number of times… meaning I have plenty of insider tips so you can make the most of your Niagara Falls visit.
Get up close and personal with them thanks to Niagara Parks with attractions like Journey Behind the Falls as well as a Hornblower Cruise. While the Canadian side has been referred to as a mini Las Vegas, there's still plenty of fun to be had in Clifton Hill. I've spent more time than I'd like to admit at the Great Canadian Midway embracing my inner child with all the games!
If you're looking for more nature than crowds, I highly recommend heading to the Niagara Glen Nature Reserve. These hiking trails are absolutely gorgeous as you follow them through dense Carolinian forest to the shores of the Niagara River. This is one of my favourite fall Ontario road trips as the contrast of oranges and reds against the turquoise water is just extraordinary!
The icing on the cake? If you want to see even more waterfalls, there are a number you can stop at on your way to or from Niagara Falls. Believe it or not, the Niagara Region is home to over 10 waterfalls – and that's not including the famous Horseshoe Falls! This alone makes a perfect day trip and is a great reason to turn your day trip into a weekend adventure.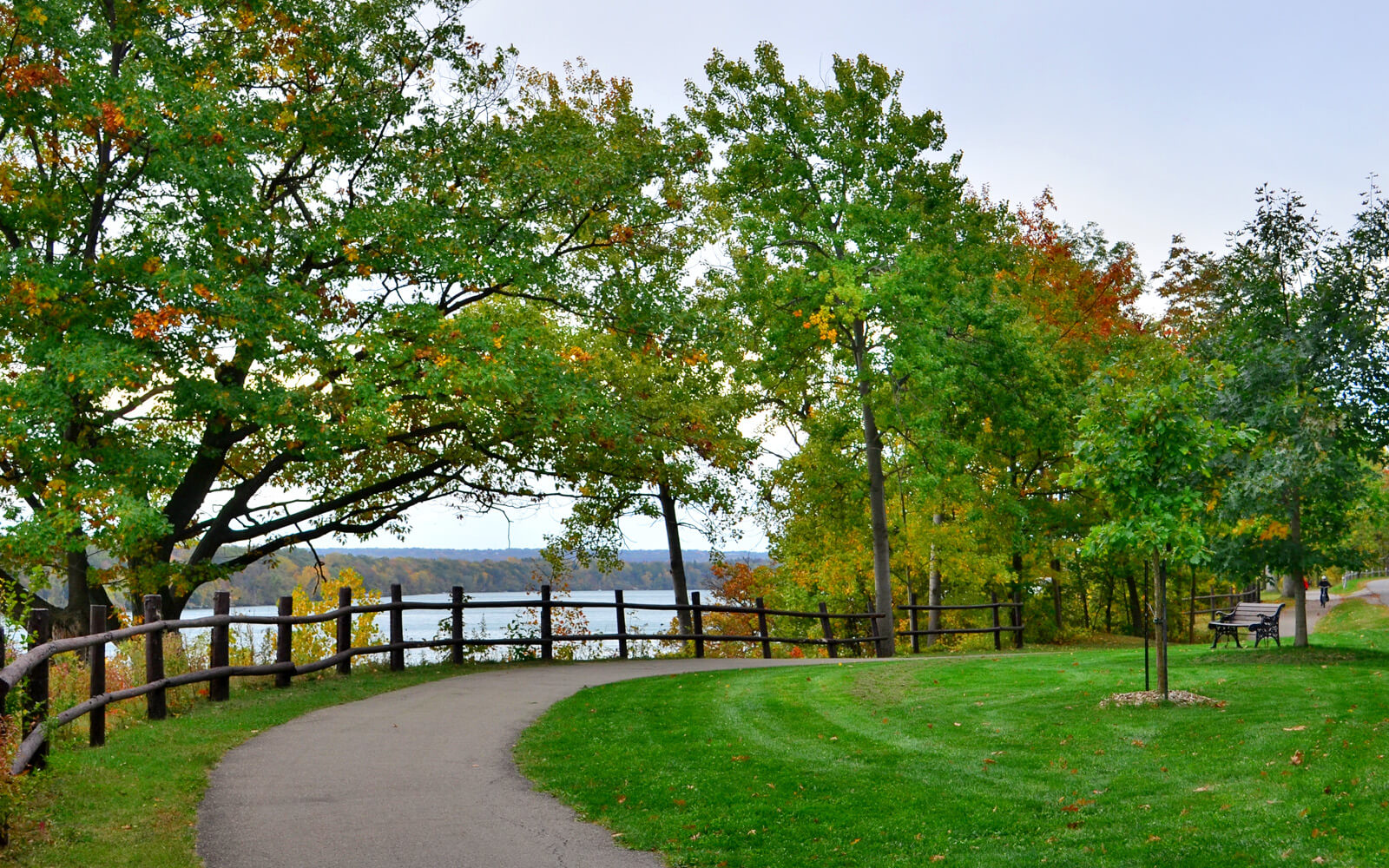 Niagara-on-the-Lake
A hop, skip and jump away from Niagara Falls, you'll find the ever-gorgeous countryside of Niagara-on-the-Lake. Chances are you've come here because of all the incredible wineries in Niagara BUT it's much more than that.
Park your car in the heart of town and take a stroll along adorable streets as you're enveloped in 19th Century charm fit for the Victorian era. Grab a bite to eat at one of the many amazing restaurants in town and enjoy the views of Old Fort Niagara across the river. I also recommend hopping on a bike and enjoying some of the Niagara Parkway. At 55km long, you'll pass by orchards, historical buildings, wineries and more. You can combine this with a trip to Niagara Falls for a wonderful weekend getaway!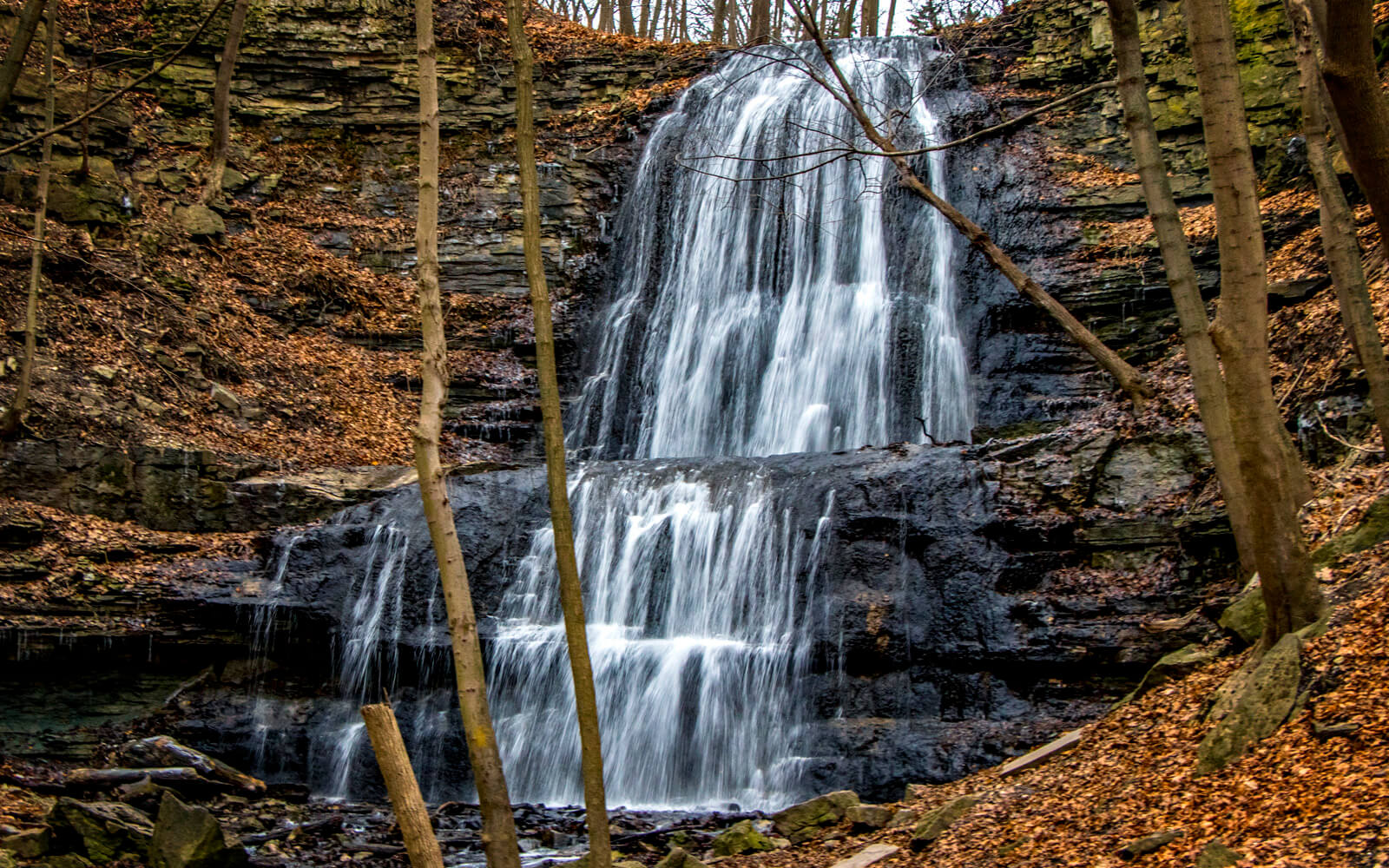 Hamilton
The Hammer has come a long way in the past decade. While its industrial roots still hold strong, the city has plenty to offer visitors. As the waterfall capital of the world, you won't want to miss exploring some of the best waterfalls in Hamilton. If you're itching for some beautiful viewpoints, you can't miss a visit to the ever famous Dundas Peak. You don't think of Hamilton as full of natural wonders but your mindset will quickly be changed after a few hikes in the city!
That's not all Hamilton is known for though. The city has a fascinating history with a strong industrial heritage. Pay a visit to Dundurn Castle for a glimpse of life back in the 1800s or head to the Steam and Technology Museum. Located in the original Hamilton Waterworks building,  you'll find the oldest surviving Canadian-built stationary steam engines. If the weather isn't on your side, you can't go wrong with either of these indoor attractions in Hamilton!
I can't forget to mention Hamilton's thriving arts scene. Hamilton's Supercrawl Festival continues to grow and grow each year and now includes year-round performances from local artists. The city also has a fantastic culinary and craft beer scene that'll please even the strongest of critics. It's easy to make a full day of it while exploring 'Steeltown'!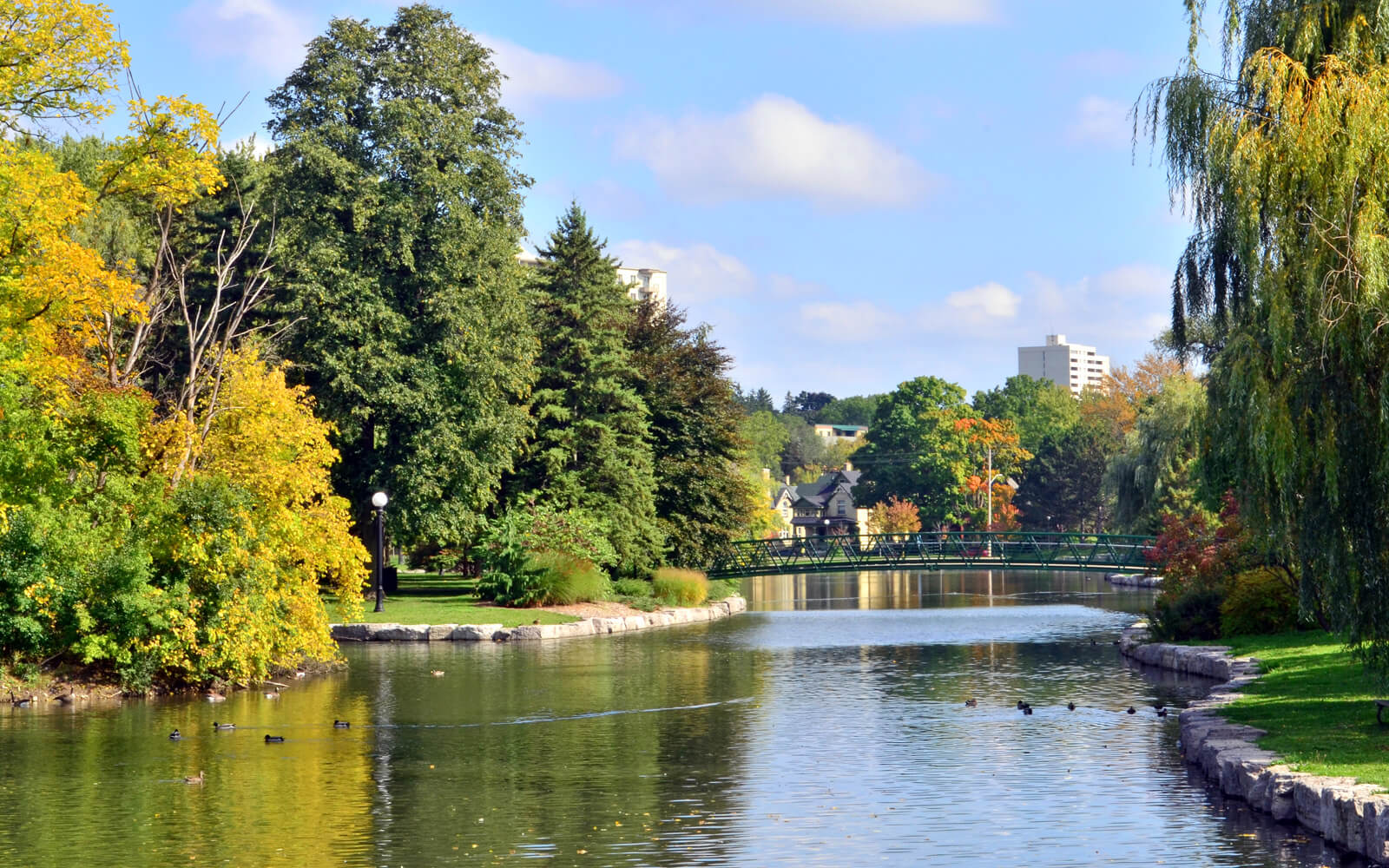 Waterloo Region
I can't forget to include my adopted home here in Waterloo Region! Kitchener, Waterloo and Cambridge have so much to do in each of them that you could easily spend a day in every city. They all have an amazing number of outdoor spaces, incredible eats and amazing craft breweries. Kitchener is my favourite of the three, though I might be a little biased since that's where I live.
Previously known as Berlin, Kitchener has seen a huge transformation over the past decade. I remember when I first moved to Waterloo for school that you never step foot in the city unless it was to go to the bus terminal or for a show at Elements. Now you'll find a number of incredible restaurants in downtown Kitchener, an old school arcade bar, plenty of patios and even a speakeasy! Downtown Kitchener has become a truly experimental space where entrepreneurs of all kinds take an idea and run with it which has created a creative community of unique businesses that make Kitchener stand out from other cities in Waterloo Region. There's even a beautiful park just minutes from the downtown core. Kitchener has a number of great trails for those looking for a breath of fresh air in the city!
If you're going to come for anything though, I highly recommend paying us a visit during Oktoberfest. It's the largest one outside of Germany and always draws a big crowd every year! Though it guarantees your day trip will be turned into a weekend getaway.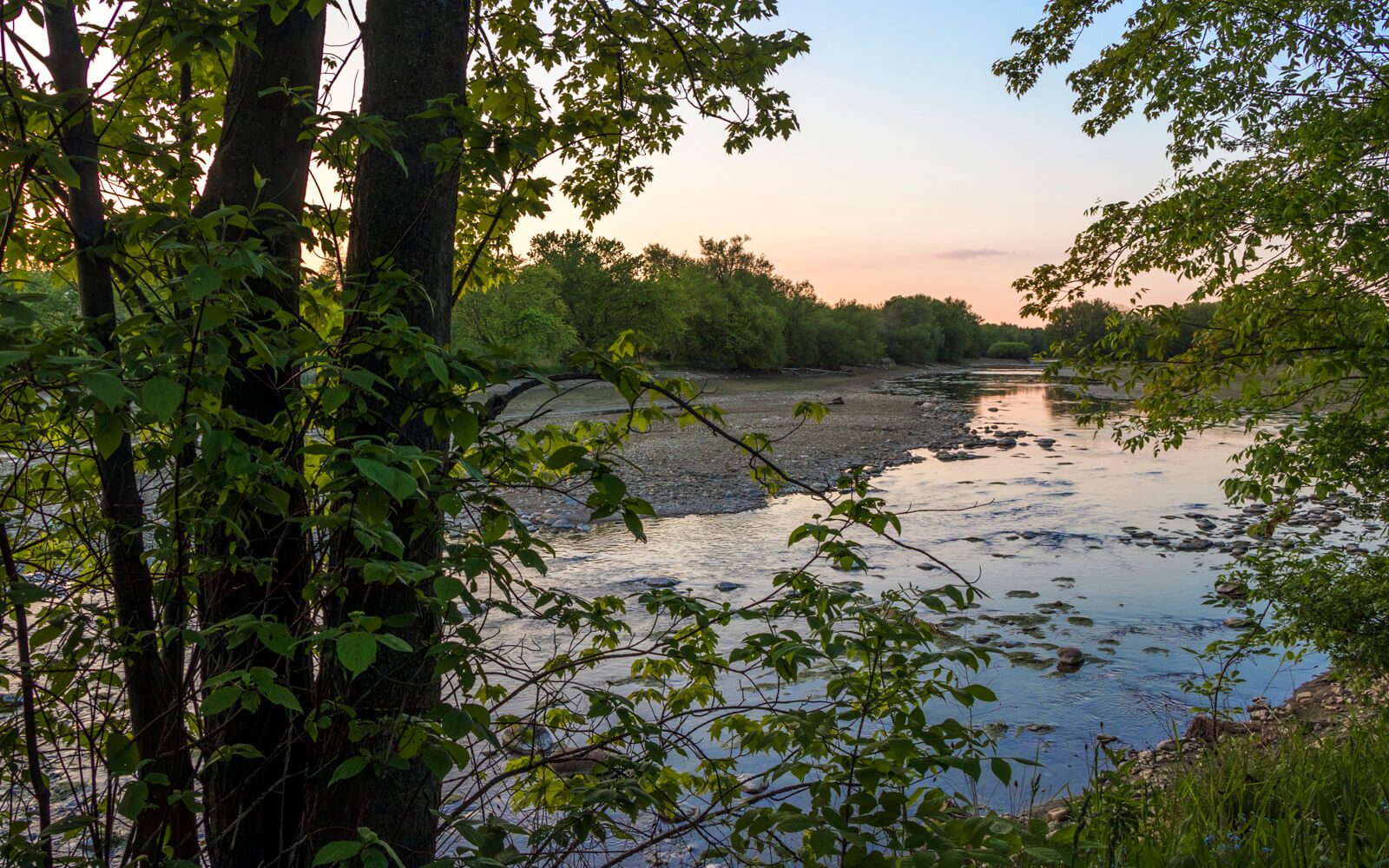 Perth County
Looking for a small town getaway? Just an hour past Kitchener, you'll find plenty of country fun in Perth County! Chances are you've heard of it (though you may not know it!) as this is where you'll find Stratford, Ontario. You'll know this town for one of two reasons – the first being the incredible Shakespearean prowess of the Stratford Festival and the second… Justin Bieber. Can you tell I'm a little reluctant to include the latter reason?
While Stratford is an amazing town, I'm a little ashamed to say I haven't spent much time in it at all. I have however explored the rest of Perth County and there are some incredible adventures waiting for you! Have you ever heard of a demonstration forest? How about getting some in-season produce from a farm gate? Don't forget some traditional Mennonite cooking to keep you fuelled up – and that's just scratching the surface! Take a more in-depth look at all the fun things to do in Perth County but be warned… you'll want to turn your day trip into a weekend after reading it.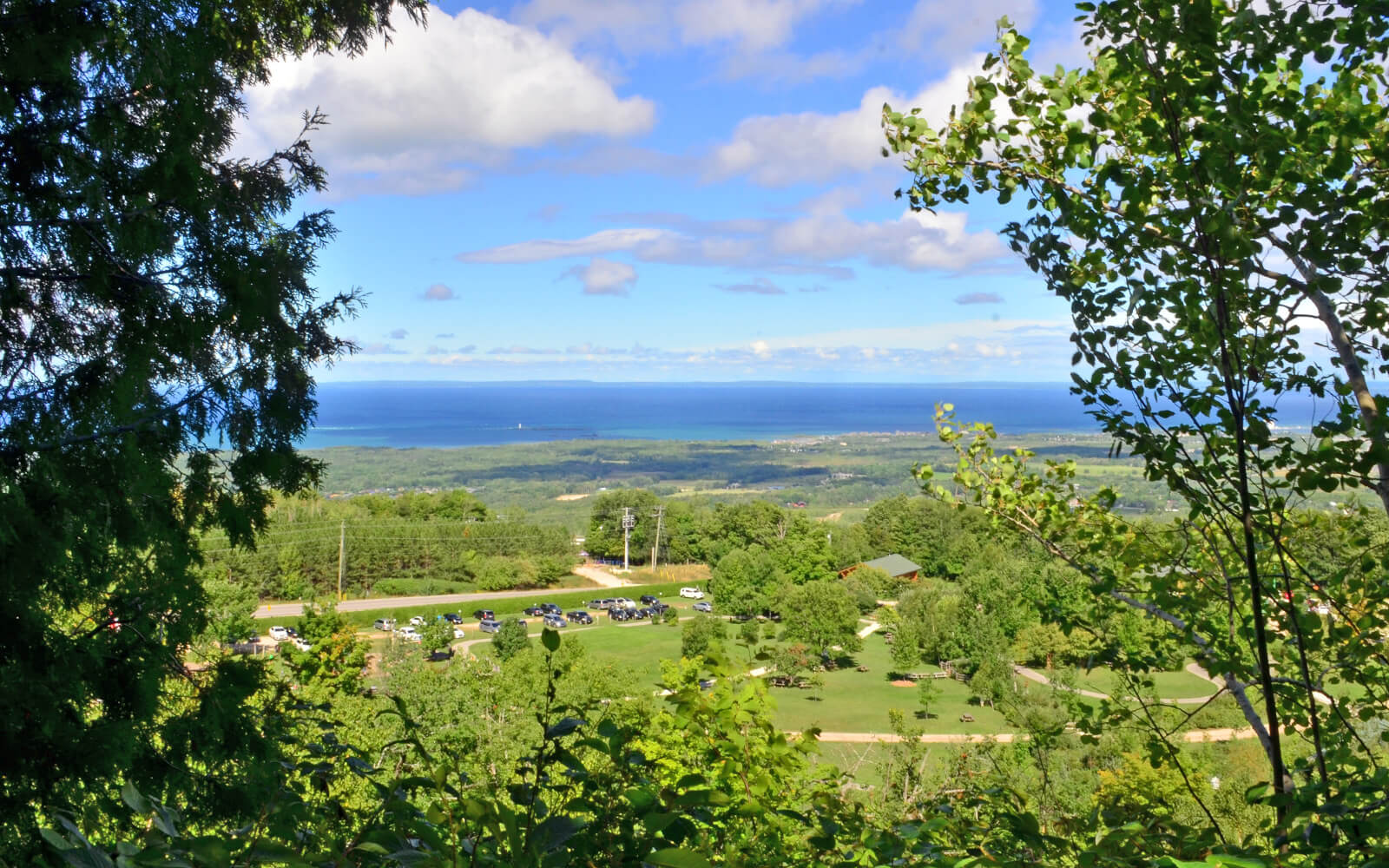 South Georgian Bay
Collingwood, The Blue Mountains, Owen Sound – oh my! The southern shore of Georgian Bay is full of adventure opportunities. Grey County has plenty to offer with its incredible waterfalls and natural getaways. It's also a great destination for scenic drives near Toronto with a number of winding county roads.
The Blue Mountains are a prime winter destination for those looking for great powder in Ontario. Those aforementioned waterfalls are fierce in the spring thaw and extra gorgeous while surrounded by fall foliage. Apple picking, watching the salmon spawn and a gathering of scarecrows make this a perfect autumn getaway. The outdoors are calling with a plethora of hikes, the odd golf course and plenty of beautiful Georgian Bay coastline to enjoy in the summer months. To top it all off, Grey County is a budding wine region offering unique vintages thanks to the area's terroir. You can even stay at one of the wineries if you choose to make this a weekend trip! As you can see, South Georgian Bay is a destination for all seasons.
I'm reluctant to mention Wasaga for a few reasons. The first, it's often over-run by party people and that's honestly not a reason for me to take a road trip. Second, there is very little open unless it's peak season. It's really unfortunate as it could be a year-round destination with the provincial park there but alas, that's not the case. Though if you really want peace and quiet, that may be the time to go!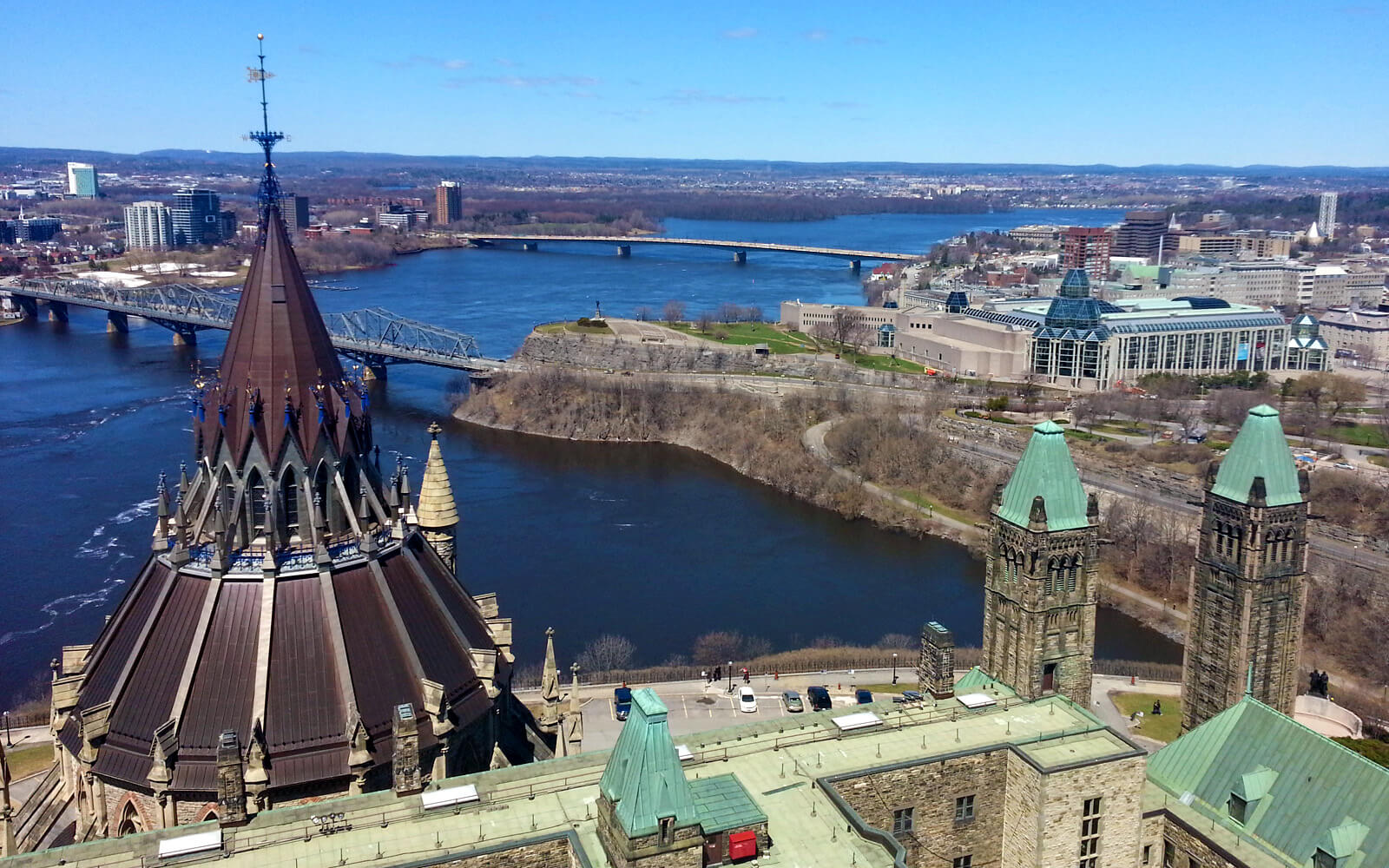 Ontario Weekend Road Trips
About 3-5 hours from the cities, these road trips from Toronto are great for a 2 day trip. Chances are you'll be tempted to make it a long weekend though. You did drive all that way after all – might as well take the time to truly enjoy it!
Ottawa
A trip to Canada's capital city is always a great idea! Plan to stay in the heart of the city so you can leave your car behind. Downtown Ottawa is extremely walkable which is one of the reasons I love visiting! Plus there are so many things to do for all interests and ages.
Get your bearings by exploring downtown with your first stop being the Byward Market. There are a number of great shops, restaurants and of course, a BeaverTail! No trip to Ottawa is complete without that iconic treat. If you're a history buff (or just interested in catching a glimpse of Canada's inner workings), take a guided tour of the Parliament buildings. The National Gallery of Canada is not to be missed, especially since it was updated for Canada's 150th birthday back in 2017. Don't forget a stroll along the Trans Canada Trail as it follows the Rideau Canal. Snap an iconic photo of Ottawa's skyline from the Alexandra Bridge Lookout at Nepean Point. When your feet get tired, this is when you'll want to hop in your car and enjoy some quality spa time just across the provincial border at Nordik Spa-Nature in Chelsea, Quebec. I haven't visited this location but if it's anything like their sister property Thermëa in Winnipeg… you won't want to leave.
That's just the tip of the iceberg! I haven't even talked about the plethora of museums, the Cold War bunker or the old jail turned hostel. In a city of just under a million people, you know there's plenty more to explore.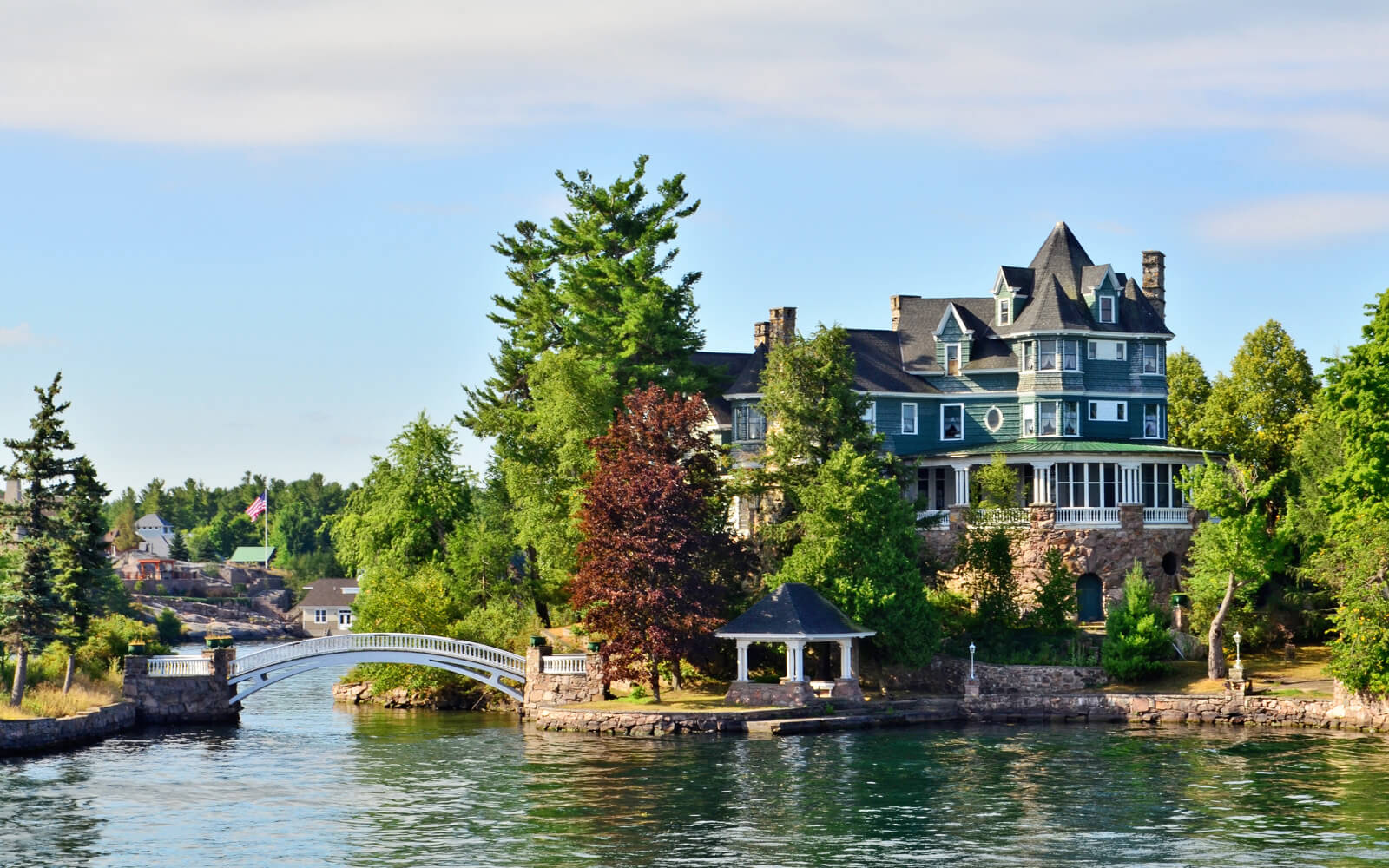 Thousand Islands
Just three hours from Toronto, you'll find the famous cluster of islands along the St Lawrence River. The Thousand Islands (or 1000 Islands, they're used interchangeably) is actually comprised of over 1800 islands which straddle the Canadian and US border. As you can imagine, it has plenty of adventure to offer both on land and in the water!
First things first, I highly recommend taking a boat tour of the Thousand Islands. This is something you'll want to book early in the morning before the big bus tours come. I mean, there are worse things than starting your day off with a beautiful tour of this gorgeous archipelago! Some of the highlights include the smallest international bridge as well as the ever-famous Boldt Castle on Heart Island. There are a number of options available with multiple departure points from Kingston to Brockville. If you're looking for departures from the American side, you can book a 3.5 hour tour here which stops at Boldt Castle and a 5 hour tour here that additionally visits the Rock Island Lighthouse.
If that's not enough touring for you, hop in a kayak for a closer look at the Thousand Islands! With half-day and full-day tours available, you'll love experiencing the Thousand Islands National Park from the water. Afterwards, there are plenty of places to eat and grab a pint in Gananoque. This already has me jonesing for another weekend stay in the 1000 Islands!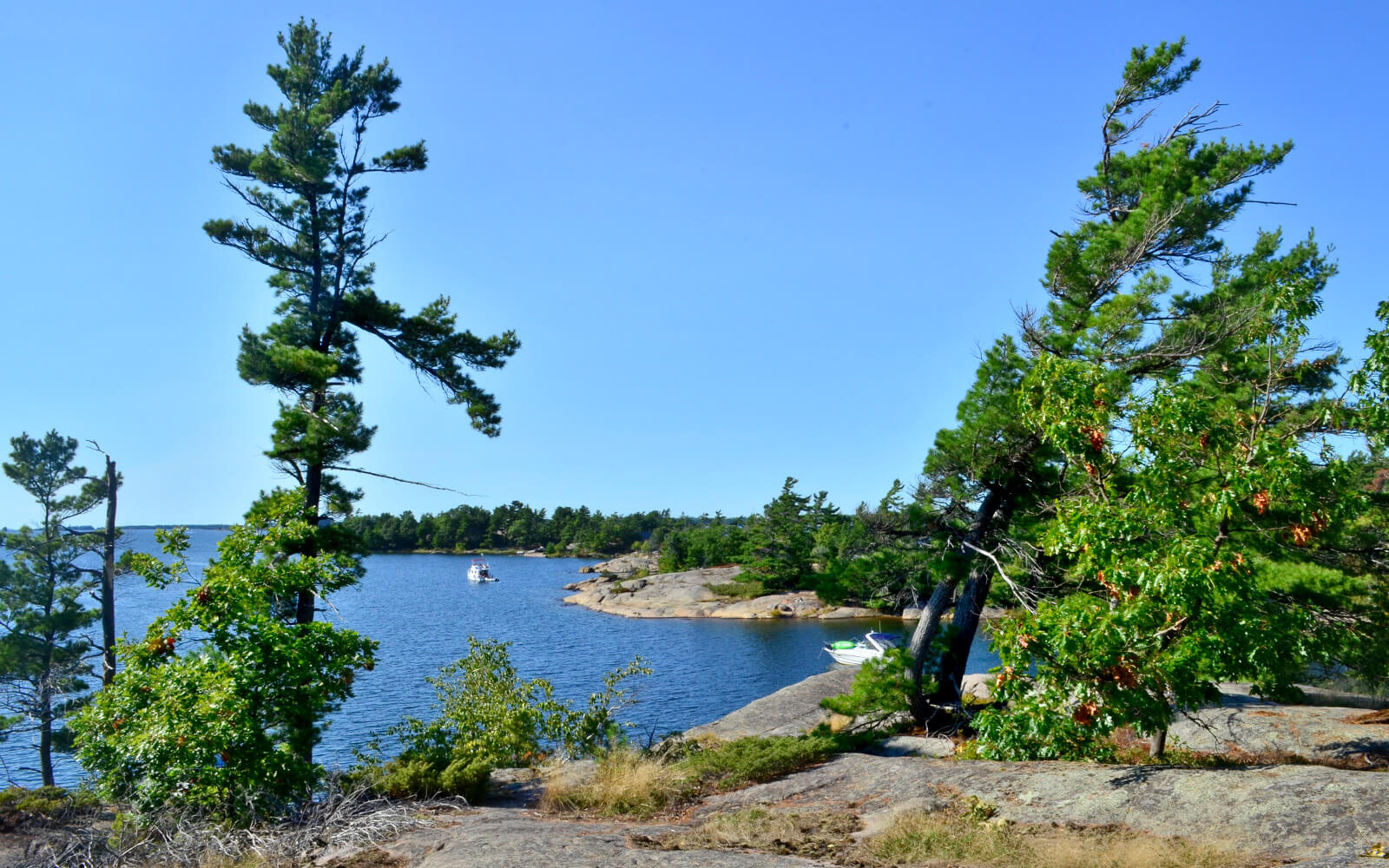 Muskoka
Its natural landscapes are what brought the Group of Seven to the area and many more people since then. Muskoka is a beautiful natural getaway that any nature lover will appreciate. Full of small towns that boast plenty of charm, you can't go wrong with a weekend in Muskoka.
Spanning almost 4000km², you'll find the turquoise waters of Georgian Bay in the west. You won't want to miss a trip to Georgian Bay Islands National Park in the warmer months. Hop on the DayTripper which will take you to this pristine landscape as you walk along the beautiful Canadian shield while admiring the iconic Eastern White Pines. In the east, you'll find Ontario's very first provincial park. I wouldn't be surprised to hear Algonquin referred to as one of the top 10 places to visit in Ontario. Personally, I haven't spent nearly enough time in the park but the little that I have seen was beautiful!
Huntsville makes the perfect home base to explore both the aforementioned parks as well as Arrowhead Provincial Park. There are also a number of incredible restaurants, adorable shops and delicious craft beer. Huntsville can be quite busy in the summer so I recommend planning a mid-week trip during peak season. Or there's always an off-season weekend adventure!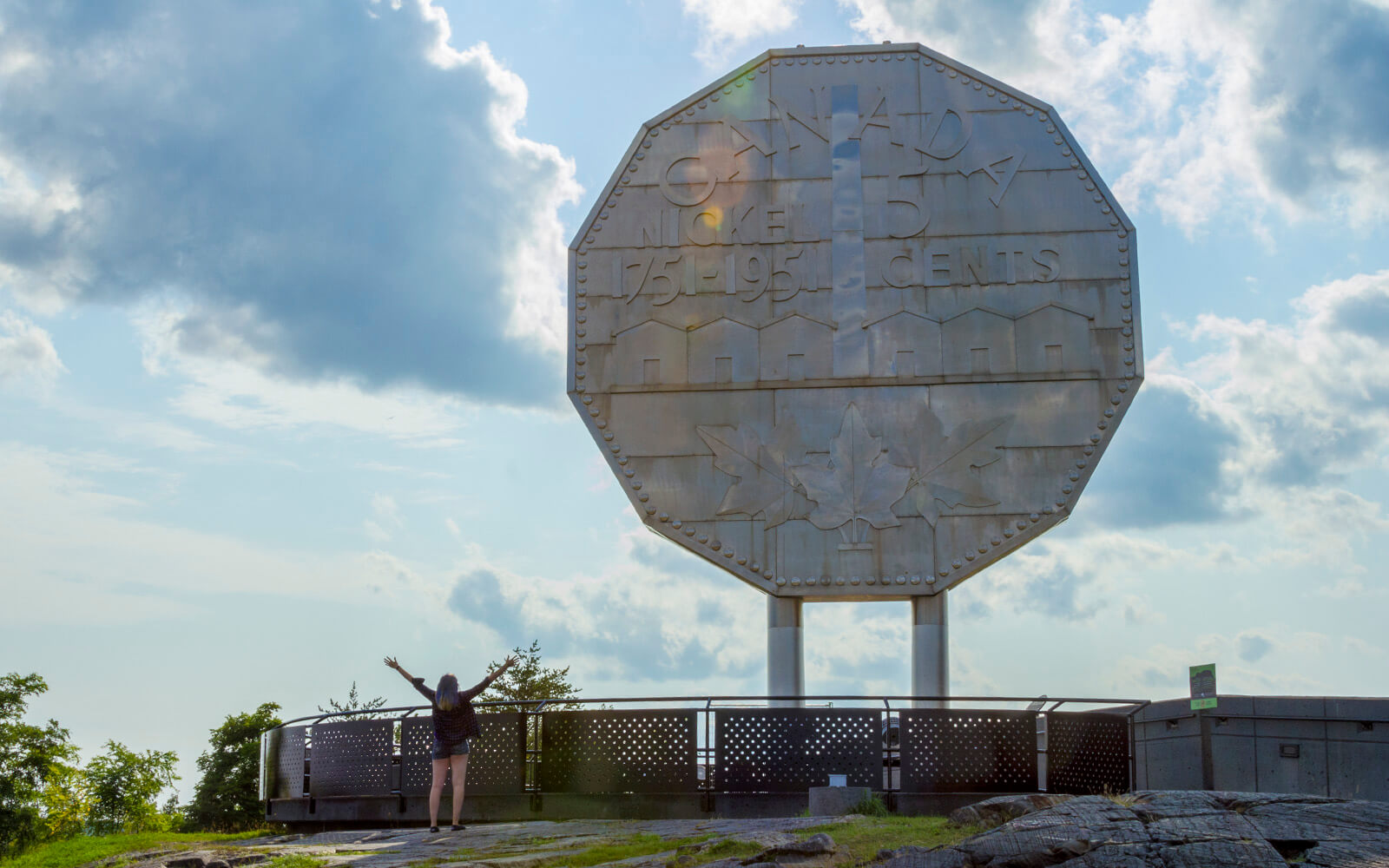 Sudbury
I've had the pleasure of exploring Sudbury a number of times, usually as part of a larger Northern Ontario adventure. That being said, Sudbury is easily a fantastic destination all on its own!
Who doesn't love a good oversized attraction? Sudbury is home to the Big Nickel which I always love passing by to see, no matter how many times I visit. You'll find it at the site of Dynamic Earth, an interactive earth sciences museum focusing on Sudbury's mining heritage, history and geology. This is run by Science North, another must-visit attraction in the city. Inside you'll see just how cool science is with a number of interactive exhibits that are fun for all ages. Science North sits on the southwestern shore of Ramsey Lake. In the winter, this is where you'll find one of the popular skating trails you'll find in Ontario! There's plenty of winter fun to be had in Sudbury.
As you can imagine, Sudbury is home to plenty of outdoor fun in all seasons. Follow the Bell Park Boardwalk from Science North towards downtown and you'll pass by Canada's largest mural which has taken over the old Sudbury General Hospital. Keep walking into downtown Sudbury where a plethora of street art will greet you along many of the city streets. At the other end of Ramsey Lake, you'll find the Lake Laurentian Conservation Area with plenty of awesome hiking trails as well as winter trails for the colder months.
Combine all of this with a number of amazing restaurants and you've got the recipe for a fantastic weekend in Sudbury!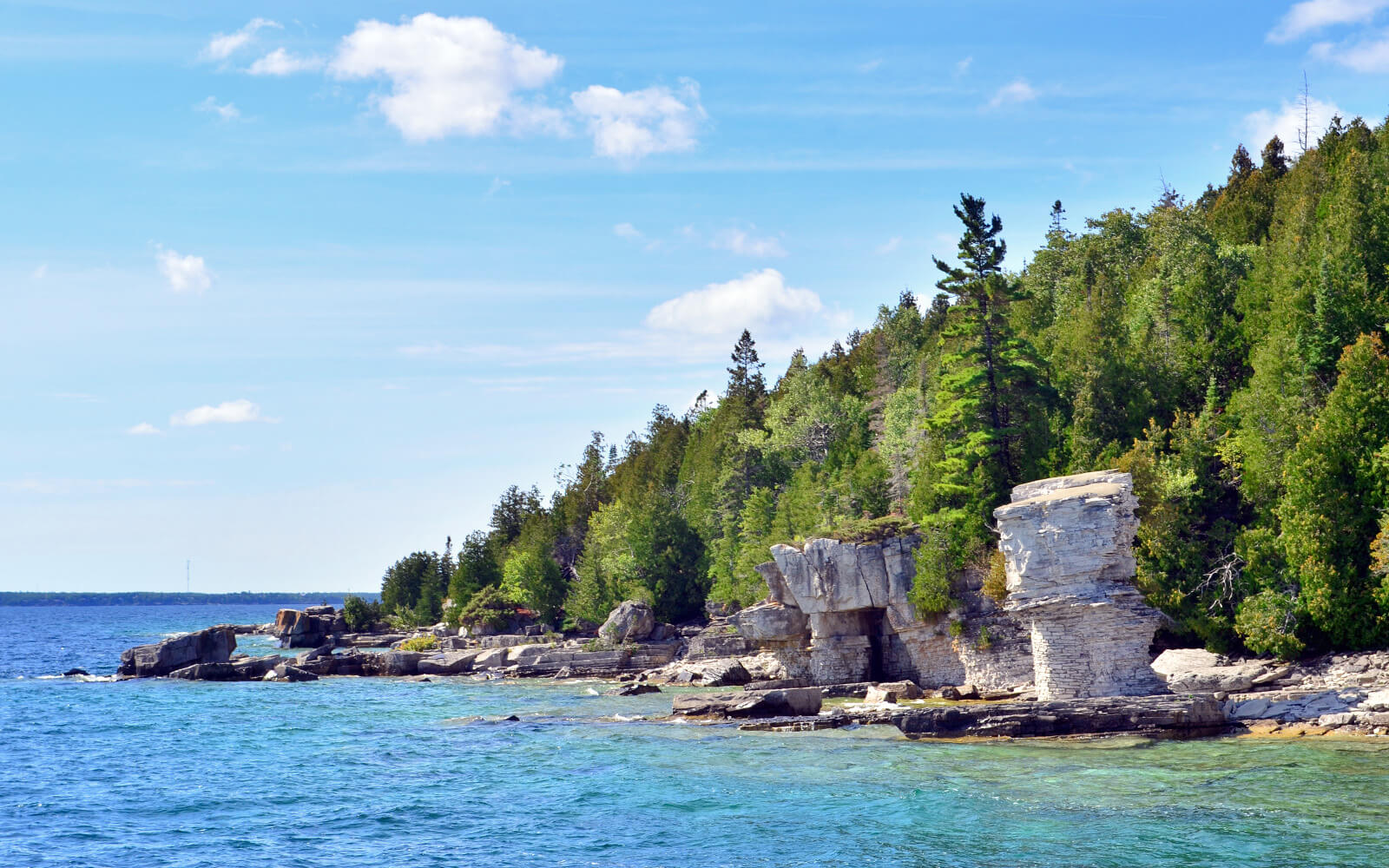 Tobermory
With turquoise waters that rival the beauty of the Caribbean, Tobermory is easily one of the most popular summer road trip destinations in the province. Ontarians and visitors alike descend upon this tiny town, meaning you'll need to plan well in advance if you're looking to visit during peak season.
Why do so many plan a visit to Tobermory? There are a number of reasons! The natural beauty of Bruce Peninsula National Park and Fathom Five draw many people – myself included. You won't want to miss a trip to Flowerpot Island to see these incredible geological formations up close. There's also a sunset cruise on the Chi Cheemaun if you'd like to enjoy some of that beauty from the water.
In my honest opinion though? Don't visit in the summer. I say visit either in May or early June while the weather is warming up and before the kids are out of school. An even better option? Go after the Labour Day weekend which is normally the first weekend in September. Everything in Tobermory normally stays open for a few weekends past this and it means you'll still have summer-like weather and the crowds will easily be cut in half.
Or if you are going to visit in the summer, stay further south. On your way from Toronto, you'll pass right by the little town of Wiarton which makes a fantastic home base for exploring the Bruce Peninsula. You won't have the insane crowds to contend with in Tobermory, there are plenty of great eats and you'll be paying much less for your accommodation. You're trying to get away from the insanity of the city after all! Plus on the Lake Huron side in Oliphant, you can go on a tour and snorkel local shipwrecks. How amazing is that?! Trust me when I say you'll enjoy your getaway much more by staying in Wiarton and driving a little to get to Tobermory than staying in the busy-busy of this overrun town. Convinced? Take a closer look at Wiarton and get planning your summer Ontario road trip.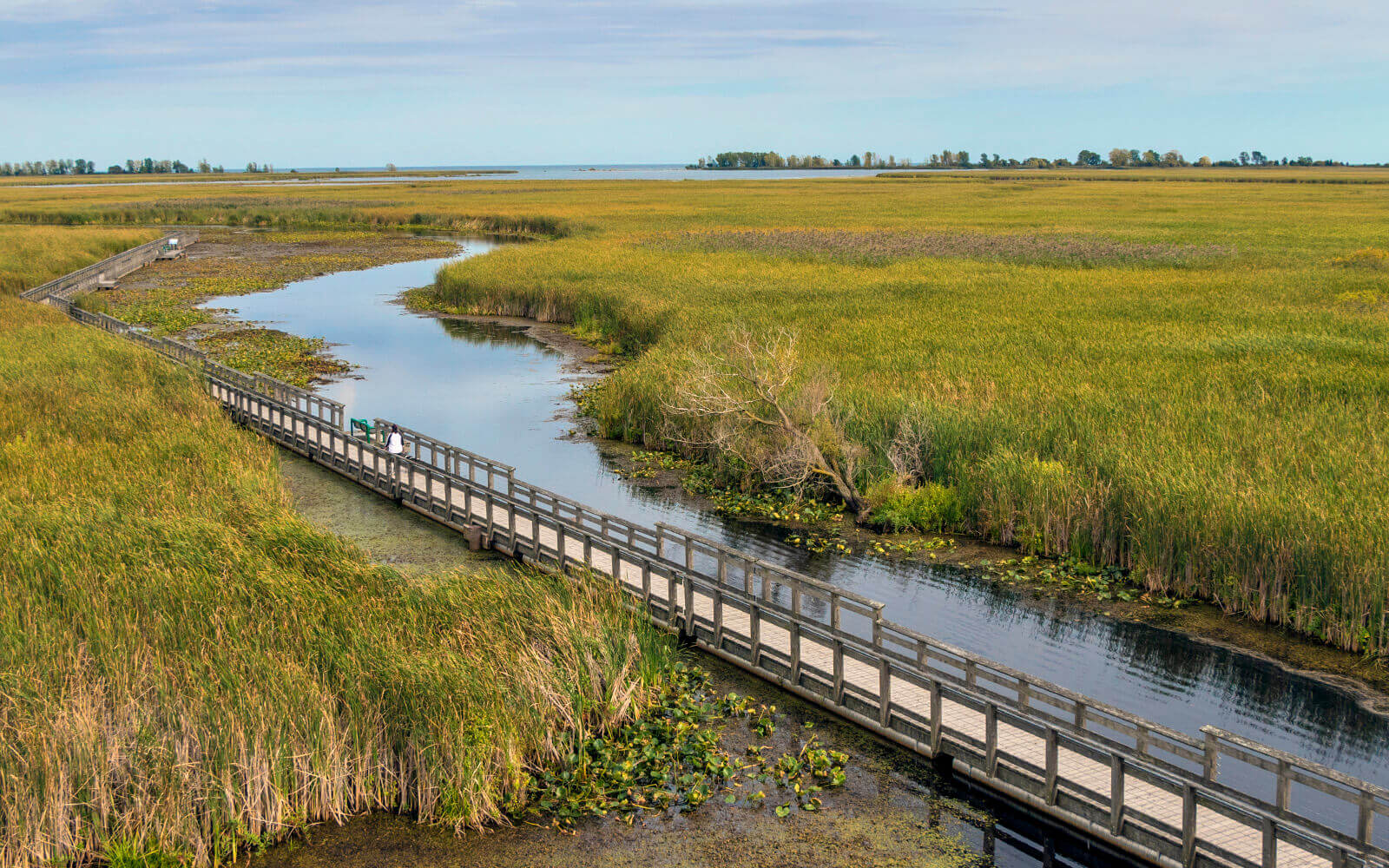 Windsor and Essex County
When your answer to "what did you do this weekend?" is I went to the furthest point in mainland Canada, you know you had a great trip!
That's right, Essex County is home to Point Pelee National Park at the southernmost tip of Ontario. A year-round destination, it has something to offer visitors of all ages. With beautiful ice formations come winter, bird watching in the spring, and long stretches of beach perfect for summer, you'll always have an incredible visit. Though if you're going to go at any time, I recommend the fall to catch a glimpse of the Monarch butterflies as they migrate to Mexico!
If you know of any city in the county, chances are it's Windsor, Ontario. You may have visited Caesar's Palace for a weekend of adult fun, but the city has plenty more to offer. Take a stroll around downtown to hunt for street art. When you get thirsty, pop into one of the many craft breweries around the city. If you'd like to enjoy the countryside, hop in your car and drive to one of the wonderful wineries in Essex County. Visit some of the small towns and indulge in some yummy eats or visit a provincial park. There are so many great things to do in Windsor and Essex County that you'll need a few weekends to see it all!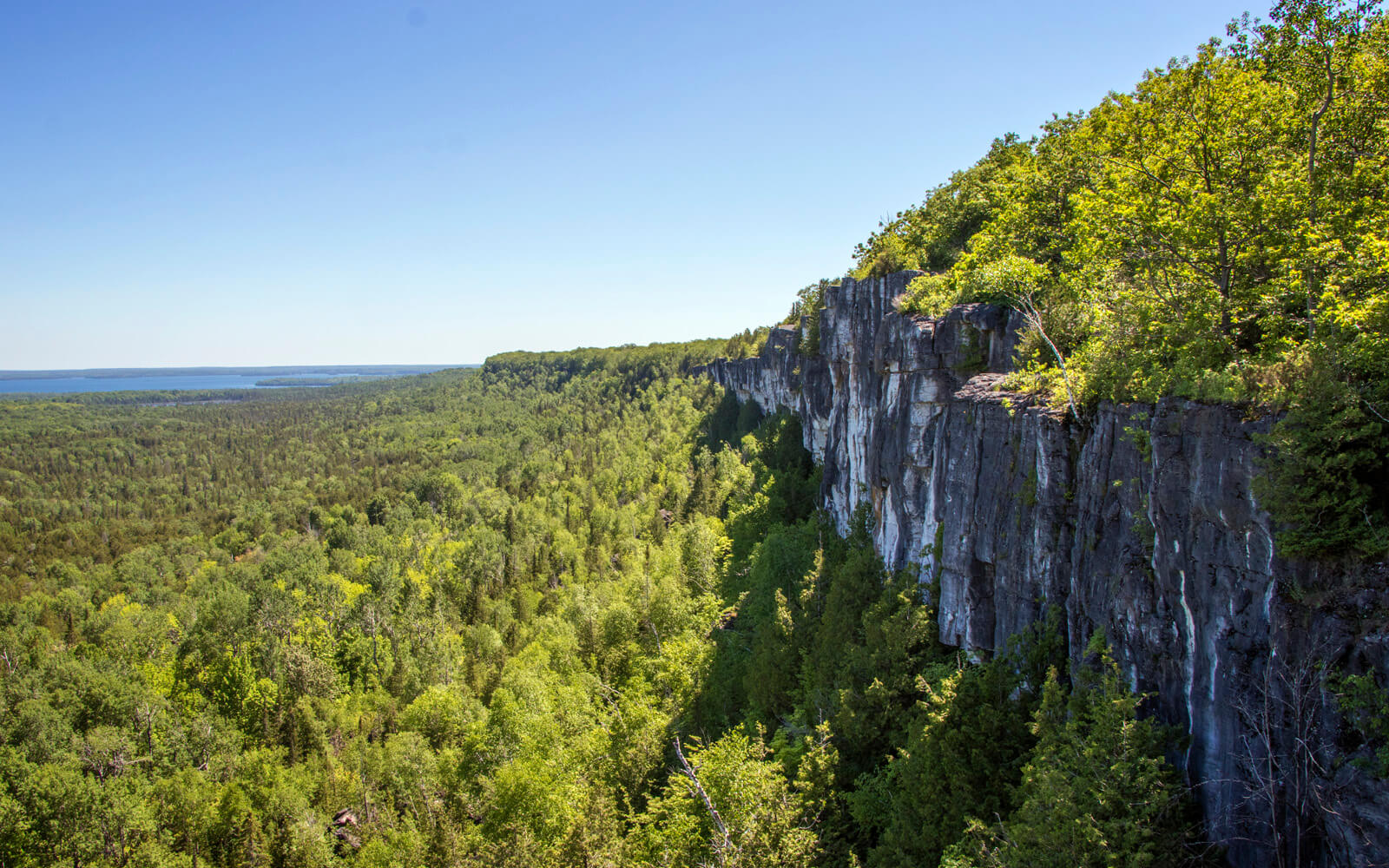 More Places to Visit in Ontario
Oh yes, there are plenty more Ontario destinations just waiting for an epic road trip! With these destinations being more than 5 hours from Toronto, I highly recommend making an extended trip out of them. You can even chain a few of these destinations together for one epic Ontario road trip itinerary. This section also includes some of the best road trip destinations from Toronto (in my opinion) so I highly recommend checking them out!
Manitoulin Island
Did you know Ontario is home to the largest freshwater island in the world? If you didn't, you're not alone as I'd say 1 in 2 Ontarians have no clue. Okay, I totally made that up but it's crazy how many people don't realize Manitoulin Island exists!
It took me way longer than I'd like to admit to finally visit but it was surely worth the wait. Manitoulin Island is one of the most interesting places in Ontario by far with plenty of small town hospitality, incredible cultural experiences, lots of great eats and most importantly: plenty of natural beauty. From the province's top art gallery at Perivale to Indigenous guided hikes with the Great Spirit Circle Trail, you have to check out all the things to do on Manitoulin Island. The list alone will have you staying for at least a week!
When planning your stay, I'd highly recommend booking accommodation close to the middle of the island. Manitoulin doesn't seem that big when you look at it but when you're driving, you quickly realize why it's the largest freshwater island. To get from one end of Manitoulin to the other takes about three hours. By staying in the middle, you'll shave off travel time aka less driving, more exploring. Providence Bay or Mindemoya are great options for accommodation.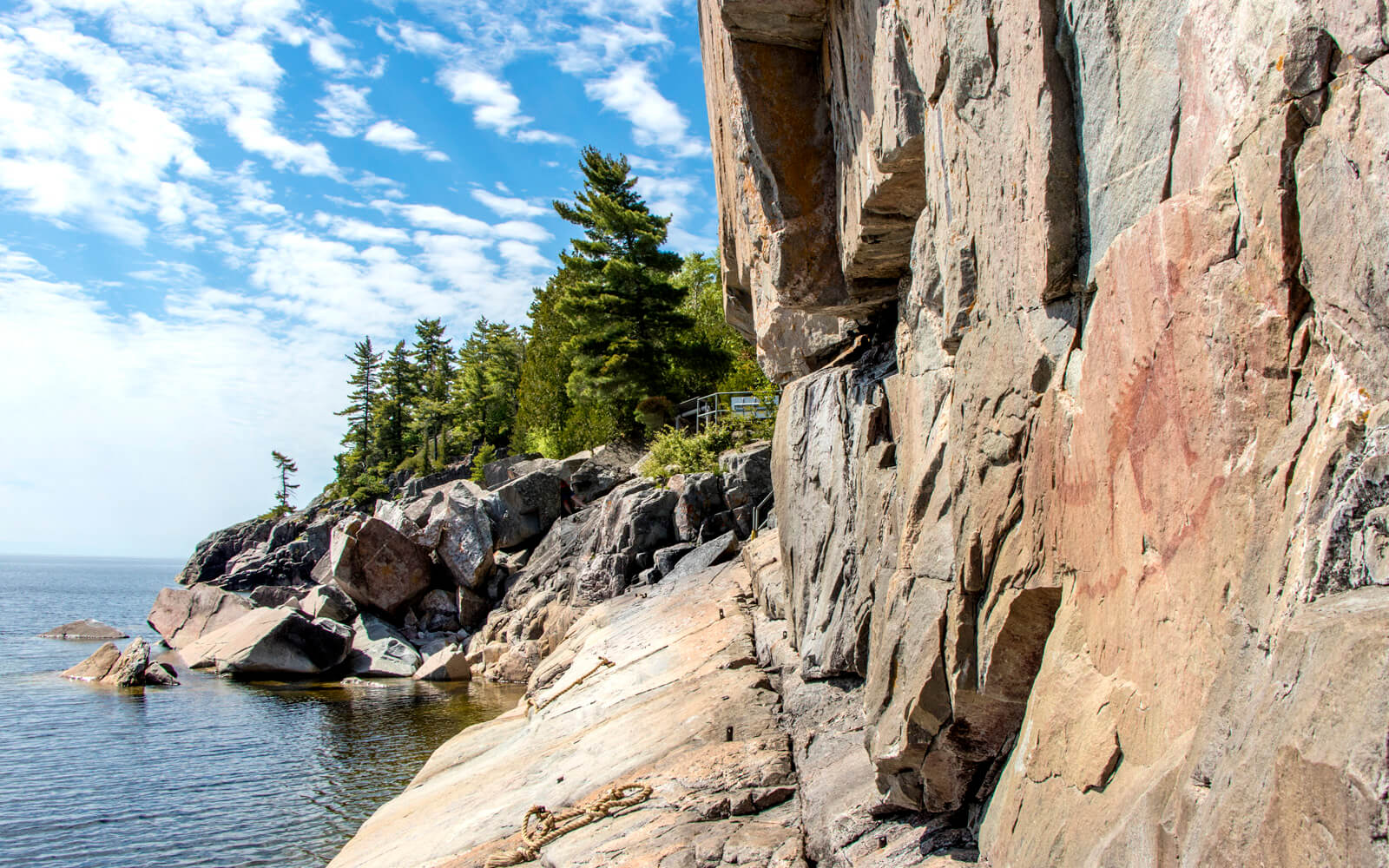 Sault Ste Marie
This is easily one of the best places to visit in Ontario, though I might be a little biased. I absolutely fell in love with Sault Ste Marie and the surrounding area since my first visit in August 2017.
Known traditionally as Bawating meaning 'place of the rapids' in Ojibway, the water has always played an important part for the city. It's a gateway for the natural beauty of Lake Superior and offers a number of incredible museums and art galleries. Sault Ste Marie is home to the famous Agawa Canyon Tour Train which people come from all over the world to experience. This iconic train ride will take you into the heart of Algoma Country where you'll begin to understand why the Group of Seven were so enamoured with the area.
If outdoor exploration is the name of your game, Sault Ste Marie is the perfect home base. Head north along the Trans Canada and experience the beauty of the Lake Superior Coastal Drive. It's one of the top northern Ontario scenic drives for a reason! There are a number of incredible hikes in both Pancake Bay and Lake Superior Provincial Parks which will keep you busy for days. Closer to town there's also the Hiawatha Highlands, home to the ever beautiful Crystal Falls.
The Soo is a destination for all seasons, especially if you're an outdoor wanderer. I honestly can't believe I haven't written an in-depth guide for Sault Ste Marie yet so you'll have to stay tuned! Until then, take a look at my post from when I first visited Northern Ontario for more in-depth information about the cities attractions as well as this list of awesome winter activities to experience in Sault Ste Marie.
Thunder Bay
This elusive Ontario destination has been on my bucket list the longest. Thunder Bay is the last larger city you'll find along the Trans Canada Highway before you hit Manitoba. It's quite the trek from Sault Ste Marie as it's an 8 hour drive but you'll be treated to plenty of natural beauty along the way.
If Thunder Bay is on your Ontario road trips list, chances are it's because of Kakabeka Falls. Known as the 'Niagara of the North', these waterfalls are absolutely breathtaking and a huge draw for visitors. The other major destination is Sleeping Giant Provincial Park. Hike to the Top of the Giant for some of the best views in Northwestern Ontario, say hello to the famous 'sea lion' and enjoy being at one with nature. Mind you both of these destinations are outside of town, so don't forget to spend some time in the city.
You wouldn't expect it but Thunder Bay has branded itself a foodie haven. With classic diners, upscale restaurants and everything in between (even vegan eats!), you won't go hungry. Two of the city's famous eats are their Persian doughnuts and their Finnish pancakes. My mouth is watering just thinking about trying them! Don't forget to wash them down at the local craft brewery afterwards. As you can see, you'll need at least a few days to explore everything so settle into Thunder Bay for a taste of the north.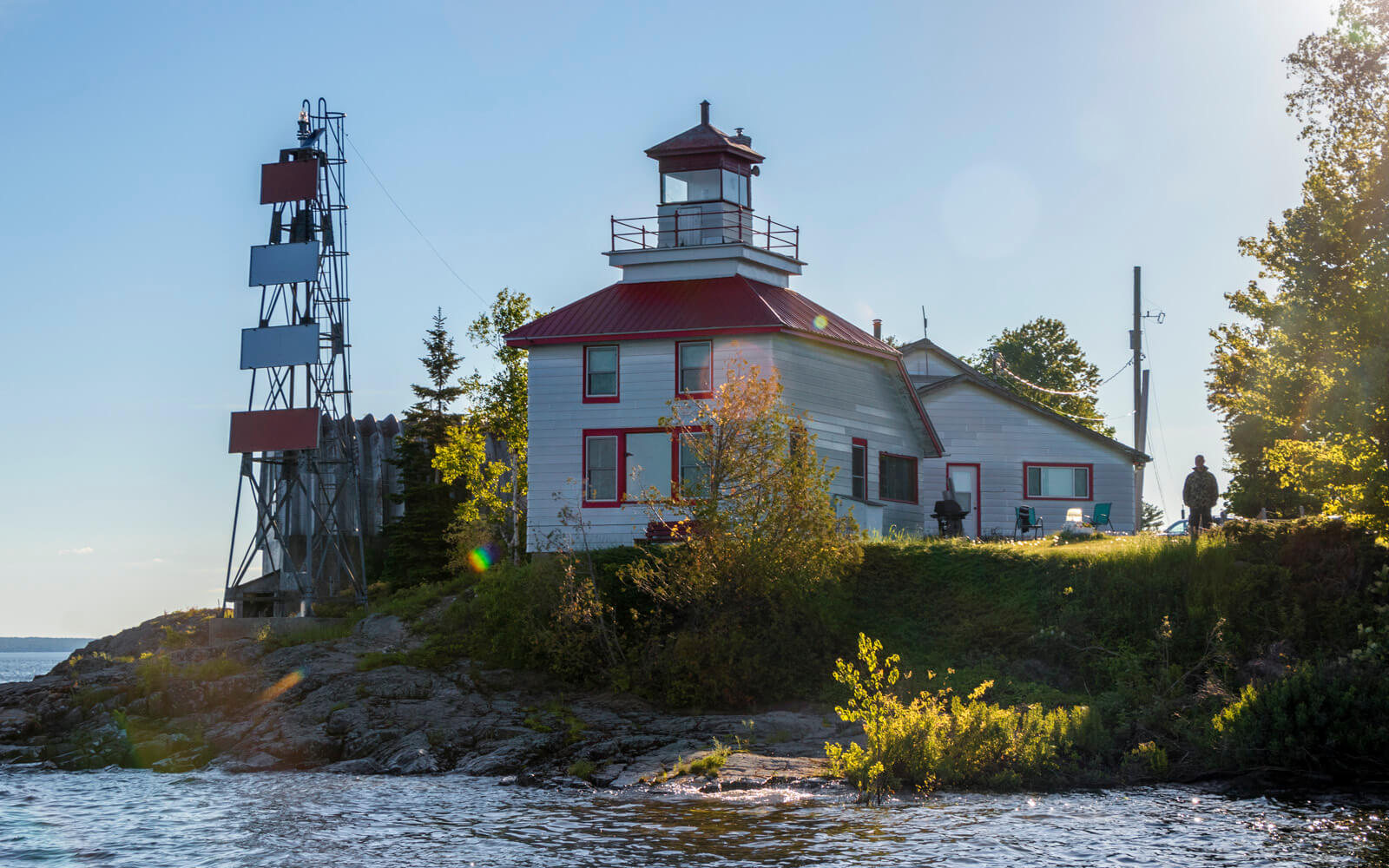 All of the Above… & More?
If you're looking for what I'd say is the best of these Ontario road trips… I'd combine them all. Yes, you'll need a few weeks to fully enjoy this Northern Ontario road trip but it's one you will NOT forget!
First I'd say head to Tobermory and take the Chi Cheemaun ferry to Manitoulin Island. Spend 3-4 days here fully exploring the island before continuing along Highway 6 to meet up with the Trans Canada Highway. Stop in at Chutes Provincial Park for some waterfall action along the way. Now you can head all the way to Sault Ste Marie, however I'd recommend popping by the town of Bruce Mines. It's an awesome spot for a bite to eat, there's plenty of mining history here to learn about and you can hit a few trails. What really makes it special though? You can stay overnight in a lighthouse at Bruce Bay Cottages! I'd say that's worth stopping for – if you can manage to snag a night there!
Continue north to my "second home" of Sault Ste Marie. Now your time here can vary but I'd say spend at least 3-4 days to explore the city proper. Then you can either choose to stay in town and plan some hiking day trips up the coast of Lake Superior at the provincial parks or you can stay at rental properties along the way. I'd recommend spending a night in White River or Marathon to break up your drive and so you can stop in at Pukaskwa National Park. From Marathon to Thunder Bay it's about 3.5 hours. You'll pass by Neys Provincial Park along the way which you may want to plan a stop at. Upon arriving in Thunder Bay, you'll want a few days to tackle everything I mentioned above as well as put your feet up before turning around and making the trek back south.
As you can imagine, you can make this trip as short or long as you want. You can also save a few of the aforementioned stops (and any others that may pique your interest!) for the return journey. Once you're heading south past Sault Ste Marie and towards Manitoulin, I'd recommend taking the Trans Canada all the way if you've already explored the island. This way you can stop by French River Provincial Park for a hike to stretch your legs while on your way to what I'd say is your last stop on this crazy Northern Ontario road trip – Killarney. This route alone would take at least three weeks to be done right!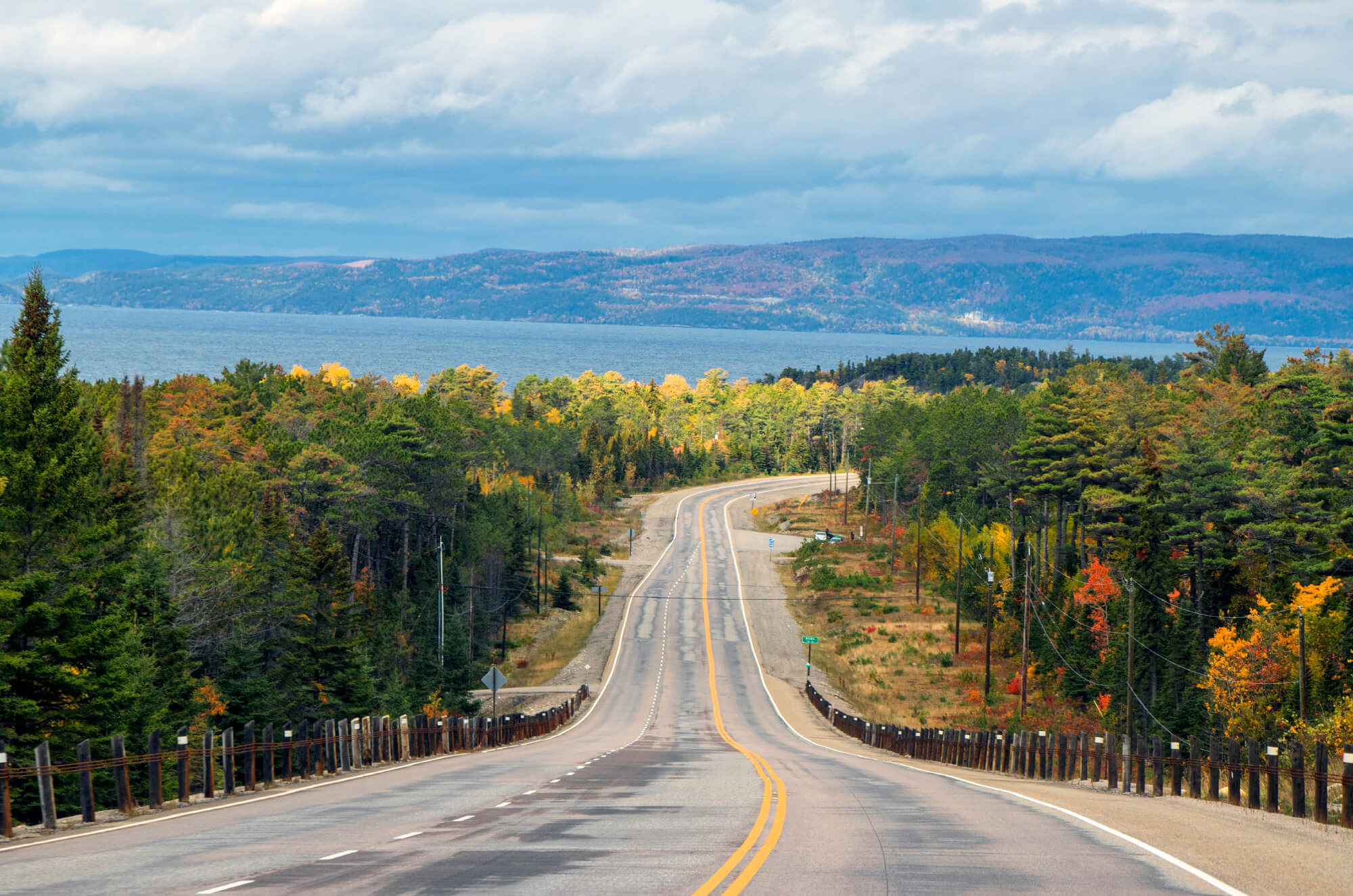 When Should I Go On My Ontario Road Trip?
Chances are you'll explore Ontario in summer since that's prime road trip weather but they really are the perfect travel plan for any season. However, some destinations offer some extra magic depending on the season. Here are some of my suggestions on what destinations you should visit depending on the time of year!
Where Should I Go For Spring in Ontario?
Spring means those April showers bring May flowers… and cherry blossoms. Yes, that's right – we have a plethora of locations across the province where you can enjoy these ephemeral beauties. The majority of them are in Southern Ontario so if you're coming from the north, you'll have a bit of a trek ahead of you! So, where should you go for a spring Ontario road trip?
The Royal Botanical Gardens
Located on the border of Hamilton and Burlington, the Royal Botanical Gardens have a beautiful collection of cherry trees. Within RBG's Rock Garden, you'll find the very unique Prunus 'Asagi'. While most cherry blossoms are either pink or white, these blossoms are greenish-yellow in colour. This tree is so unique that it's the only one found in Canada! As you can imagine, spring is a fantastic time of year to visit as a number of their flowers are flourishing. Be sure to check out RBG's bloom calendar and plan your visit accordingly!
Toronto's High Park
This is probably the mecca of all cherry blossom collections within Ontario. High Park is home to the largest concentration of cherry trees thanks to a generous donation from the Japanese ambassador to Canada in 1959. The majority of these 2000 donated trees were planted in High Park. You'll find them in three different locations with the largest cluster being at Hillside Gardens.
How About an Autumn Road Trip in Ontario?
Sweater weather means the air is crisp as we're on the cusp of winter. Break out the scarves, a toasty drink and let's hit the road to do some leaf peeping! Any of the destinations listed above will make a great autumn getaway, but a few places are extra special to visit during fall.
Grey County
I hinted at some of the fall fun you can have in Grey County earlier in this post, but here's where I'll explicitly say it. Grey County is a fantastic autumn destination! Start your day with some apple picking at one of the local orchards. You'll definitely want to enjoy the windy roads of the Beaver Valley as you admire the gorgeous fall colours. Starting to feel a little parched? There are a number of great Ontario cideries in the area to quench your thirst. If you find yourself in Meaford between mid-September to mid-October, don't be frightened as the scarecrows that invade are very friendly! Grey County is a great spot for families of all ages to enjoy some autumn fun.
Muskoka
Let's be honest – cottage country is always a good idea. Muskoka is home to a number of fall gems including the Bala Cranberry Festival, plenty of scenic hikes and much more.
If you talk to anyone in Southern Ontario and ask them where to go in the fall, chances are they'll say Algonquin Provincial Park. While I have never been to Algonquin in the autumn months, it's common knowledge that it's one of the most scenic places in Ontario. Add the beauty of the autumn colours and you've got a match made in heaven! As a result though, it's one of the most popular destinations in the fall. You'll want to go early to avoid the crowds, especially as there are a number of bus tours that come in from Toronto.
Lake Superior Provincial Park
It's a much longer drive but Mother Nature will reward you with incredible sweeping views of Lake Superior. Stop in Sault Ste Marie and pop by to say hello to Crystal Falls in the Hiawatha Highlands. Afterwards, follow the Trans Canada Highway north with a quick pitstop at Chippewa Falls. It's the middle of this coast to coast highway after all! Then enjoy the stellar views as the highway winds along the Lake Superior coastal drive. There's a reason why it's one of the most scenic routes in Ontario Canada!
No trip would be complete without some great hikes. See if the waters will be calm enough so you can say hello to Mishipeshu at Agawa Rock. If you're an avid waterfall chaser like myself, you can't miss the Pinguisibi trail and Sand River Falls. Hunting for fantastic views? Check out the beach at Old Woman Bay and then head across the street to tackle the Nokomis Trail.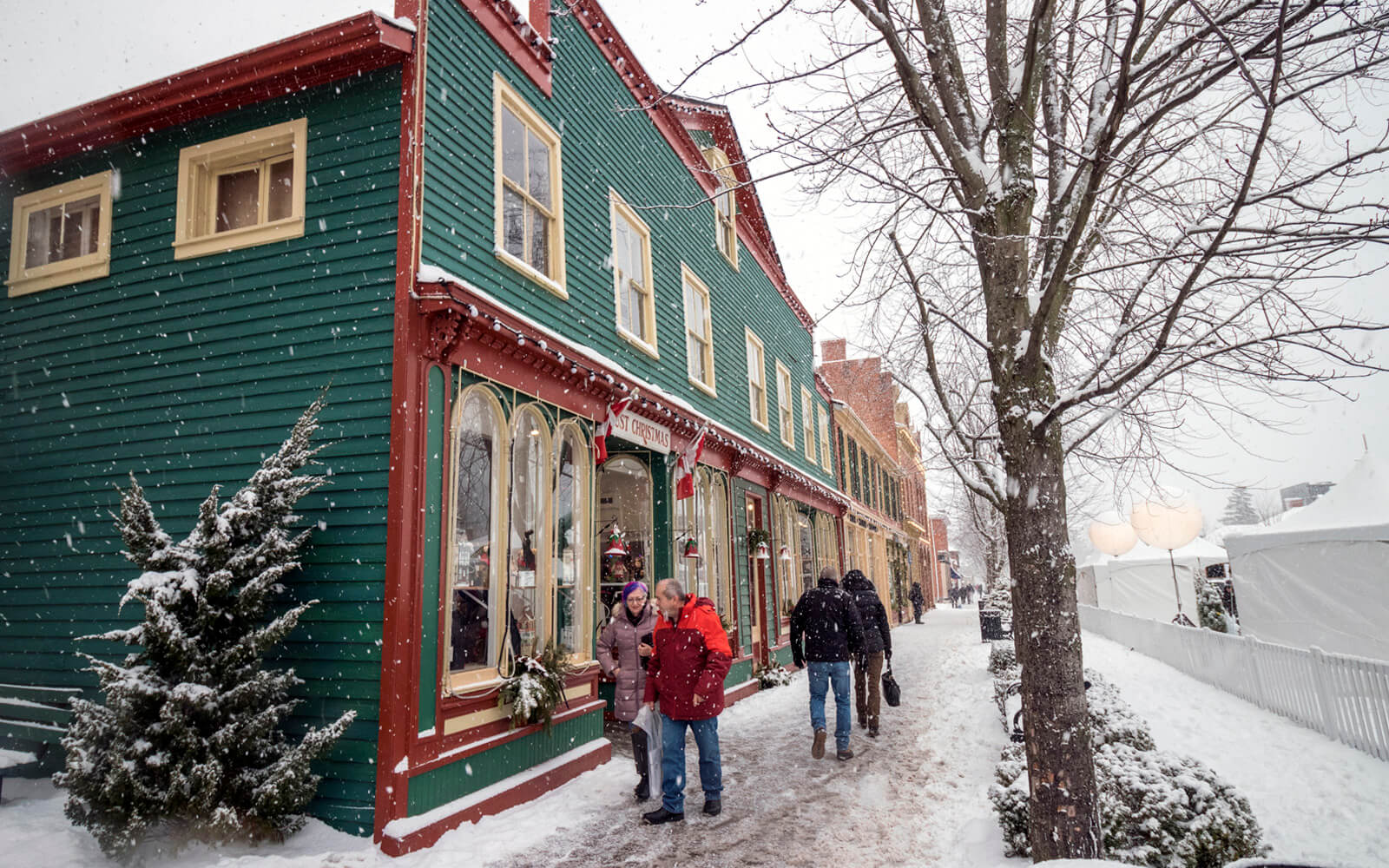 What About a Winter Ontario Road Trip?
I love a good winter road trip. It's seriously one of my favourite ways to enjoy winter in Ontario. You just need to make sure you're prepared! I highly recommend ensuring your car has winter tires, especially if you're renting a car. All-season tires are ineffective as of -7°C (~20°F) and can lead to a higher chance of accidents when the weather turns sour. Ontario winters can really be difficult with high fluctuations of temperature, sudden snowstorms and more so it's best to be prepared! Be sure to give yourself more time when travelling and don't forget to take the short days into account. However, that doesn't mean you shouldn't go for it. I'm all about winter travel and can recommend a number of great winter destinations for some epic Ontario road trips!
Niagara-on-the-Lake
As I mentioned earlier, Niagara-on-the-Lake is a tourism hot spot and easily one of the popular places in Ontario to visit. While most flock to its picturesque beauty in the warmer months, it's also home to the Niagara Icewine Festival. Downtown NOTL is transformed into a beautiful winter wonderland as you sip on wine, enjoy live music and indulge in local eats and treats. I'd highly recommend it as a romantic winter getaway! Take a look at my Niagara Icewine Festival post for more details about what you expect and where to stay.
Winter Camping at a Provincial Park
Many might think camping is only for the summer and fall but trust me, winter camping is awesome. I can count on one hand how many times I've camped and half of that was winter camping! Many of Ontario's provincial parks are quickly booked for the warmer months, especially if you want to spend a night in a cabin or yurt. Luckily you'll have a lot more availability in the winter and it's a great way to slowly introduce yourself to winter camping!
If you're looking to leave the big city lights behind and check out nature's lights, Killarney Provincial Park is the perfect destination. Four hours from Toronto, the stars will light up the night sky as Killarney is the province's first provincial park to be designated as a dark sky preserve. I had the pleasure of winter camping in one of their yurts and I slept like a baby every night! Plus you'll be able to trek up to one of Ontario's top hiking trails, The Crack, with little (if any) people. If you need to reset and relax, Killarney is the perfect place for an Ontario winter road trip.
Another awesome winter destination is Windy Lake Provincial Park. If you're an avid angler or just want to try your hand at ice fishing, this is the only park where you can rent all the gear you need right from the park! With four yurts and two cabins, you'll be nice and toasty after a day out on the ice. The park also offers over 15km of cross-country ski trails thanks to the Onaping Falls Ski Club. Don't have skis? They've got you covered as there are rentals available! Pair this with snowshoeing and you've got yourself the perfect Ontario winter destination! Take a look at my post about Windy Lake Provincial Park for more details. Also, don't forget to spend a day or two in Sudbury since you're already close by!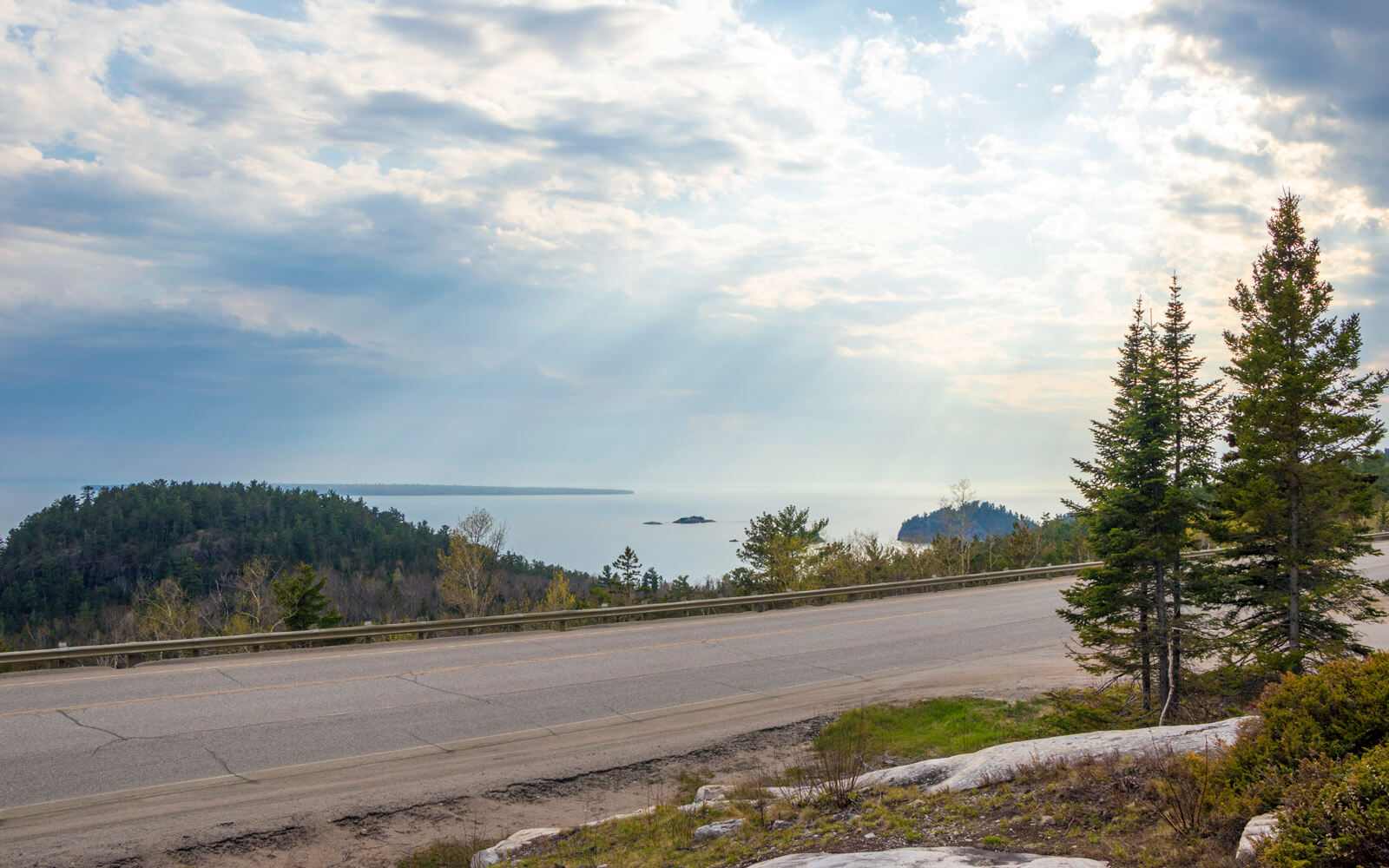 What About Road Trips From Ontario?
There are plenty of destinations beyond Ontario's borders that make a fantastic road trip from Toronto! If you're craving poutine then I highly recommend a trip to Montréal. Just a few hours beyond you'll find Québec City which will give you a taste of Europe without leaving Canada.
Looking to cross the border into the United States? Detroit is easy to combine with a road trip to Windsor and Essex County. Or you can hit the road in the opposite direction and say hello to New York state. There's plenty to do in Buffalo, the Finger Lakes, Rochester or if you're really adventurous there's always New York City! Though I'd personally recommend heading a little further south to Pennsylvania. I've had the pleasure of visiting a number of amazing destinations including the steel city of Pittsburgh and even the mysterious Centralia.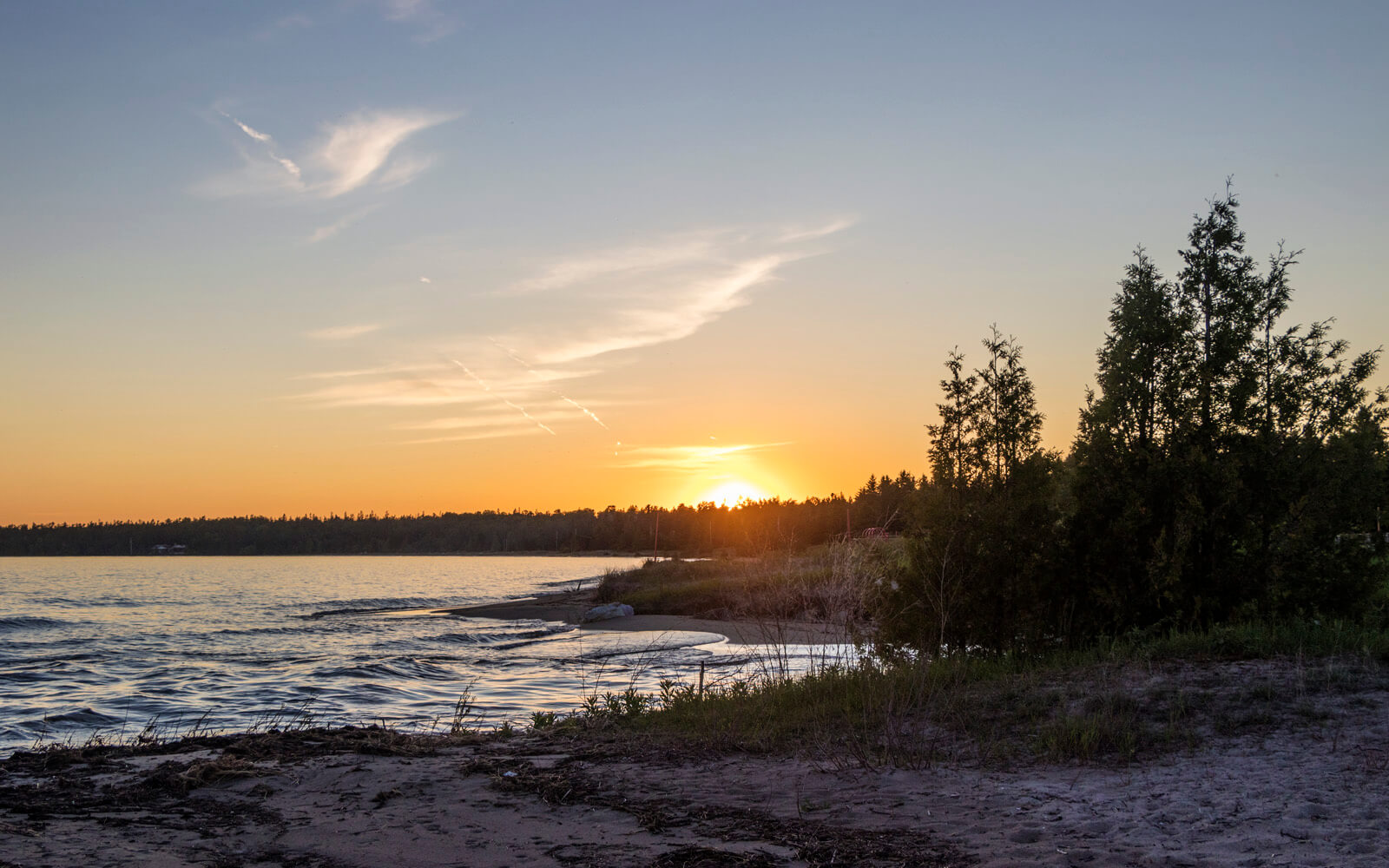 These Are Must Do Ontario Road Trips!
If you're wondering what the best road trips from Toronto are, that really depends on what you're looking for. Any of the aforementioned destinations will make for an awesome getaway. If you're asking yourself "where should I go on a road trip from Toronto?"
Durham Region
Prince Edward County
Niagara Falls
Niagara-on-the-Lake
Hamilton
South Georgian Bay
Waterloo Region
Perth County
Thousand Islands
Ottawa
Huntsville
Greater Sudbury
Tobermory
Windsor
Manitoulin Island
Bruce Mines
Sault Ste Marie
Thunder Bay
…and who knows what you'll find along the way! That's one of the best parts about a road trip. It allows you the flexibility to stop and enjoy whatever gem you happen to come upon. Don't forget to click the links throughout this article for more in-depth guides and tips for your Ontario road trips. If you're a bit of an over-planner like me, don't forget to leave some free time because you never know where you might want to stop along the way!
Ready to tackle these Toronto road trip destinations? Take a look at the Ontario road trip map below and start planning your adventure!
Disclaimer
This post contains affiliate links where I may receive a kickback at no extra cost to you. It helps keep the site alive so thanks! Read more in IBB's disclaimer and privacy policy.
Ready to Road Trip Ontario?  Pin these Ontario Road Trips for later!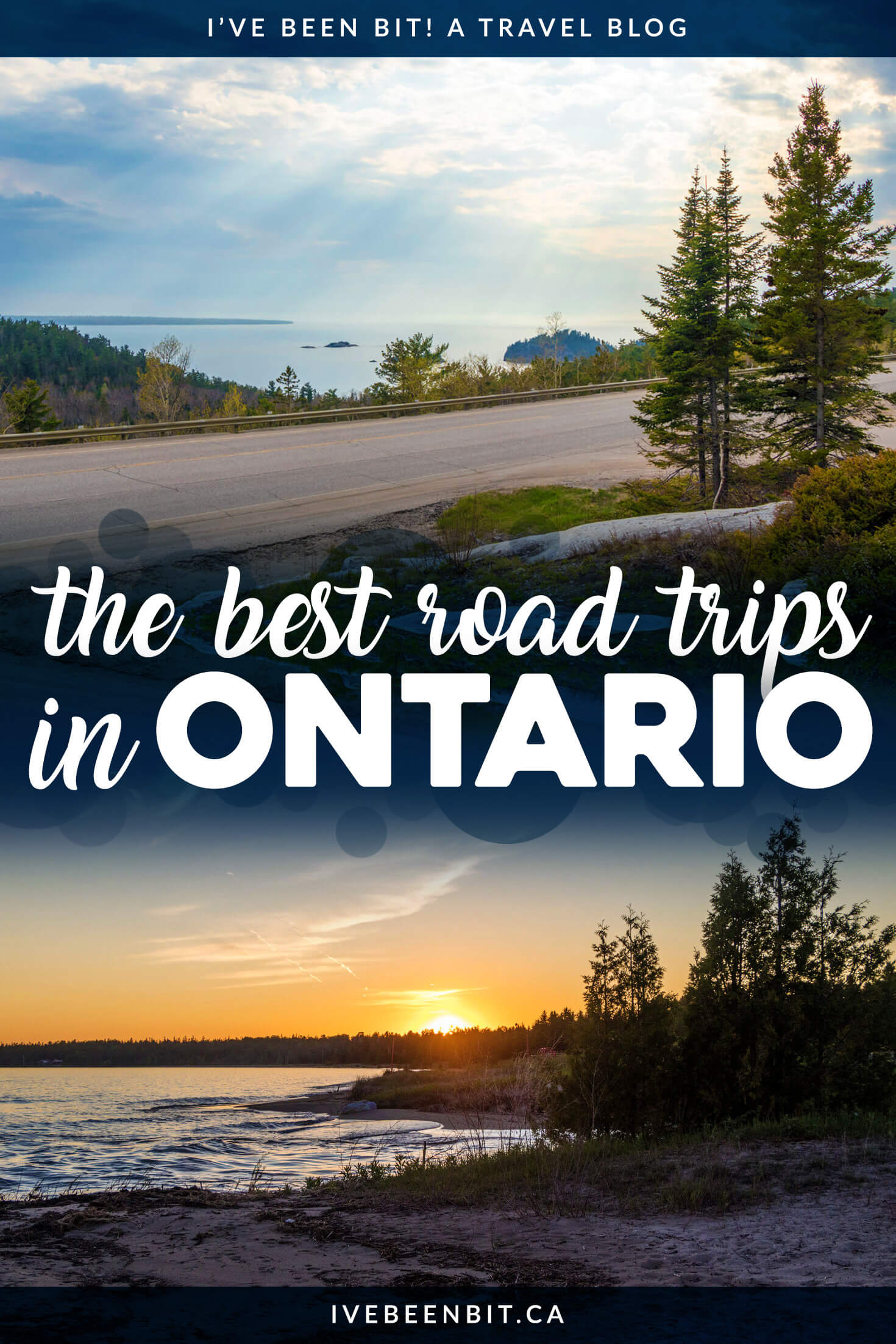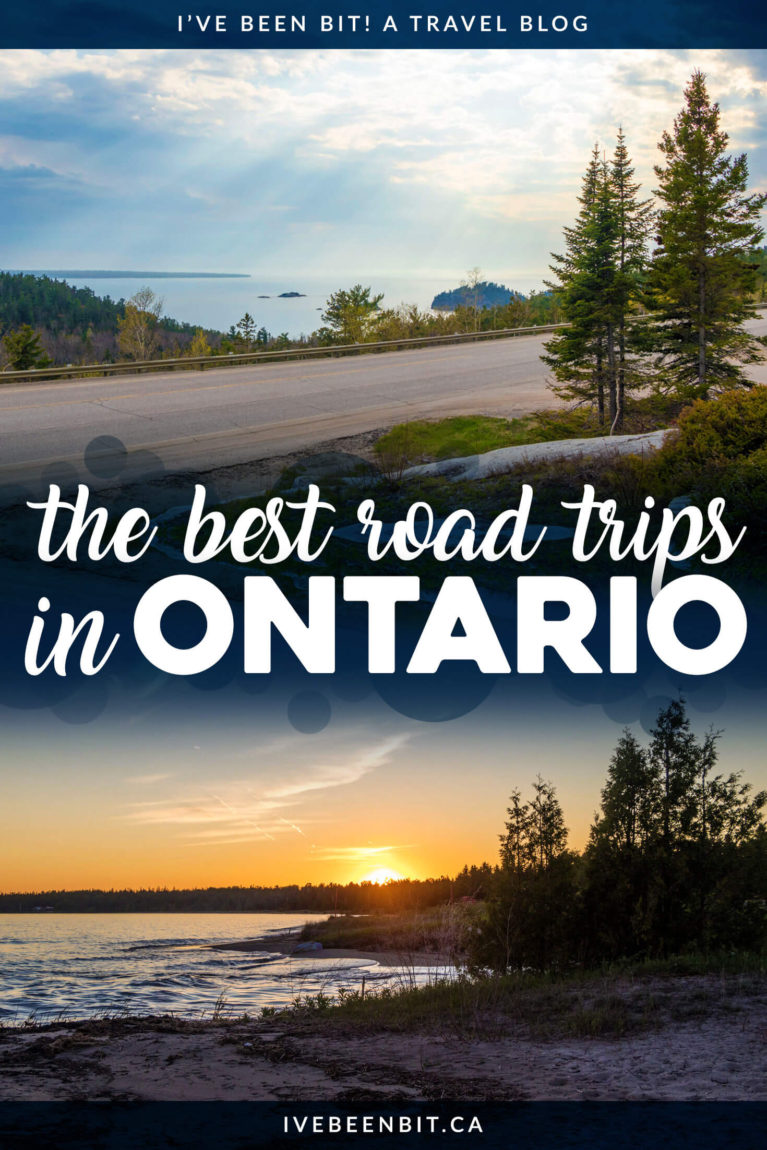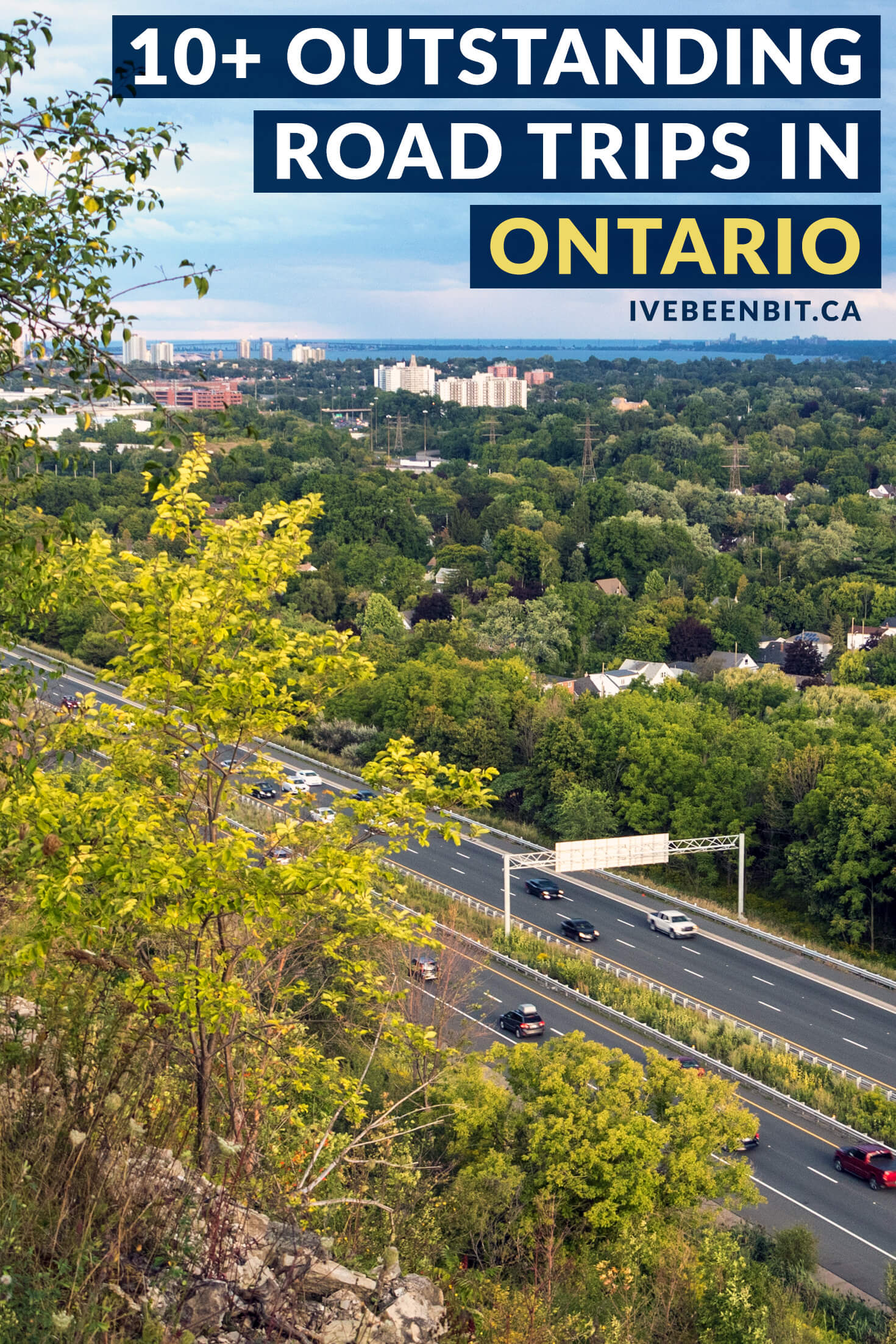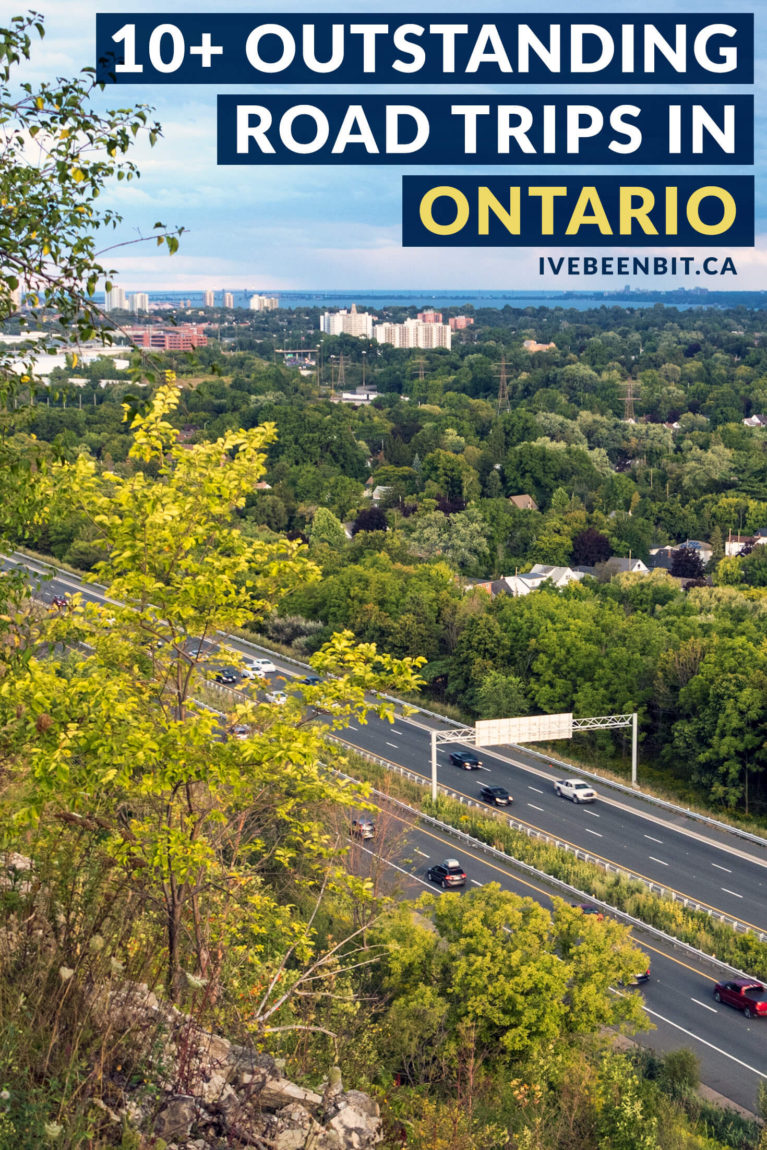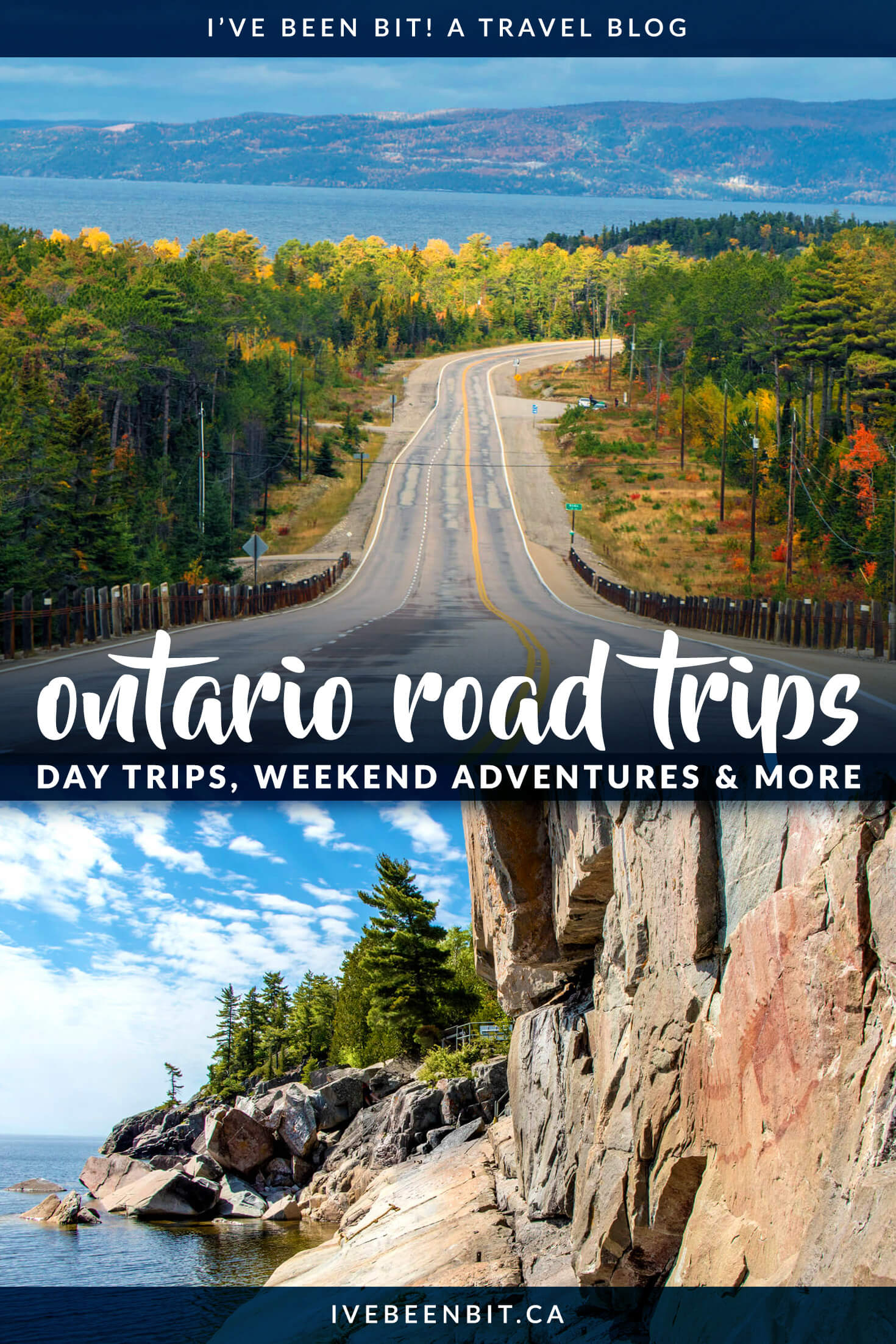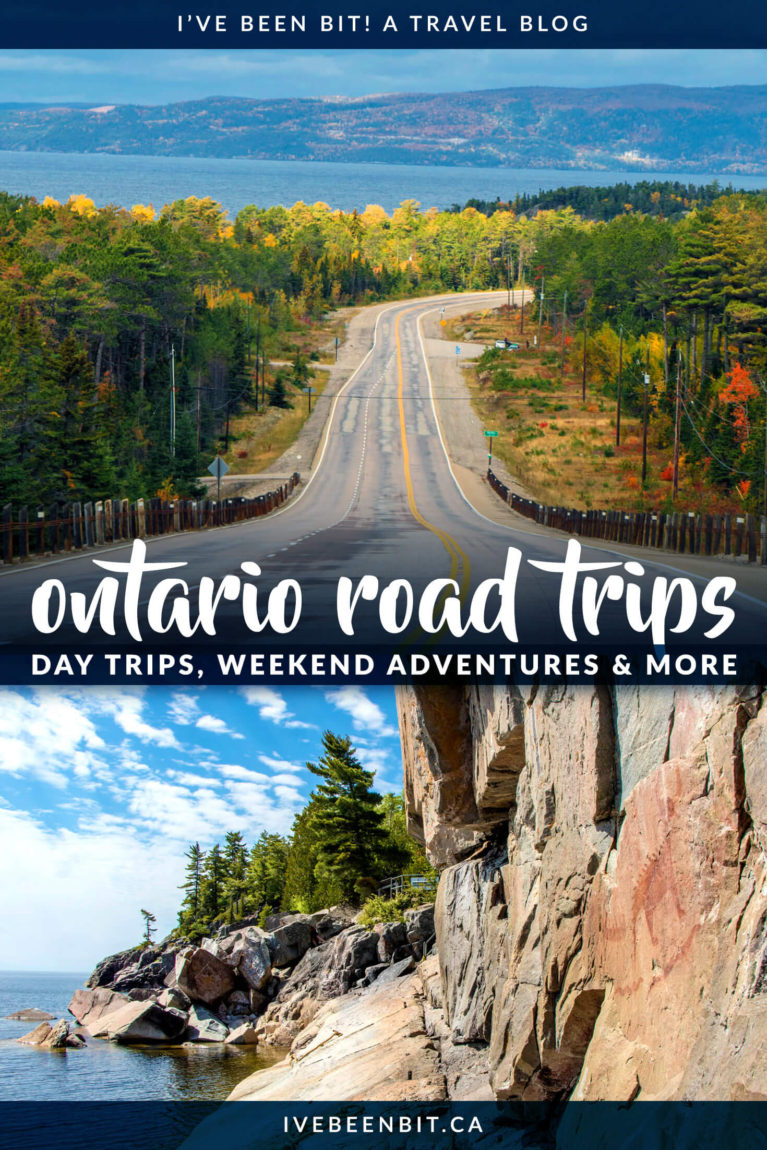 The post Best Ontario Road Trips: Where to Hit the Road & When appeared first on I've Been Bit :: A Travel Blog.